The Last Duel is a historical drama, directed and produced by Ridley Scott hits theatres on Thursday the 15 October. The film is based on Eric Jager's book "The Last Duel" which is a retelling of history. Specifically, the story of the last legally sanctioned duel in France's history. In 1386, Marguerite de Carrouges claims to have been raped by her husband's best friend and squire Jacques Le Gris. Her husband, knight Jean de Carrouges, challenges him to trial by combat.
The movie has a star studded cast including Matt Damon as Jean de Carrouges, Adam Driver as Jacques Le Gris, Jodie Comer as Marguerite de Carrouges, Ben Affleck as Count Pierre d'Alençon. As well as Harriet Walter, Nathaniel Parker, Sam Hazeldine, Micheal McElhatton, Alex Lawther, Željko Ivanek, Clive Russell, Adam Nagaitis, Bosco Hogan and Clare Dunne.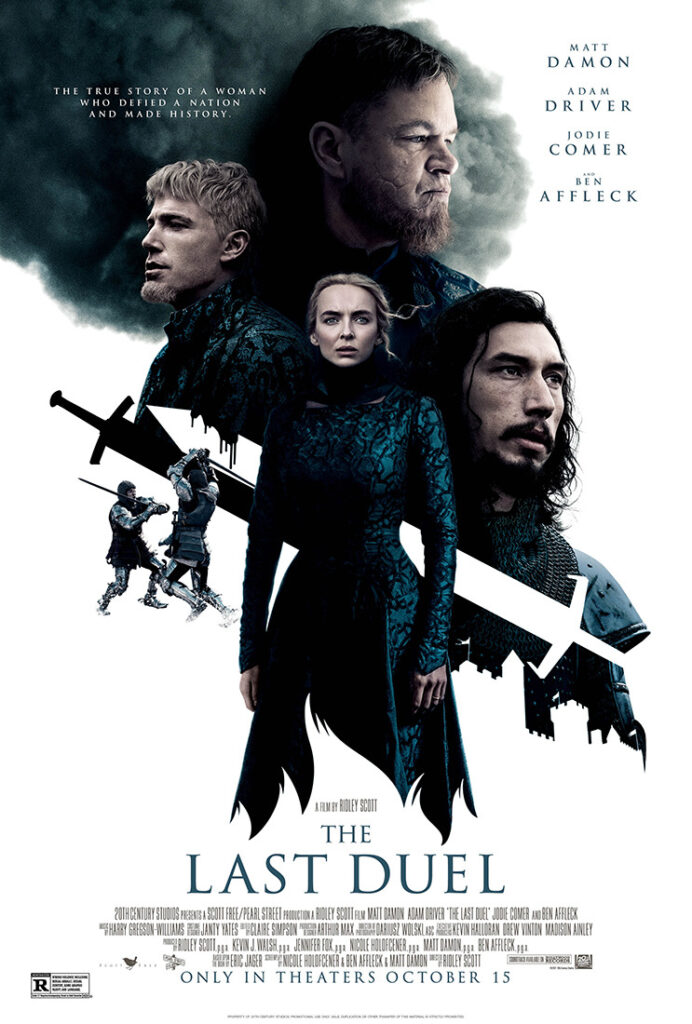 The Last Duel is split into three chapters, each giving a different view point of the story from Jean de Carrouges, then Le Gris, and finally Marguerite de Carrouges. Marguerite's chapter is entitled 'The Truth' giving importance to the voice of a women who did not get much attention throughout history.
Jodie Comer gave her thoughts on the importance of this movie in today's day and age at the premiere of the flick in New York.
"I was looking forward to giving this woman a voice," She provided when reflecting on why she found this film important. "There was so little information about her, and she was the one who experienced this horrific attack, yet there was a whole encyclopedia about the men and how they fought and what they wore and who they were. To hear the creators' main focus was to give her the opportunity to speak her truth was what really grabbed my attention."
Comer added on this thought to explain its relevance to today.
"It's pretty evident that we've come so far in so many ways, and yet in many we haven't learned anything, especially in regards to women experiencing sexual assault and women still fighting for autonomy over their bodies. It's kind of depressing when you go, 'Oh gosh, it still feels like we have another 600 years to go.' Hopefully that really isn't the case…It really holds a mirror up to society."

– Jodie Comer
As a co-writer of the script with Ben Affleck and Nicole Holofcener, Damon also weighed in on the depiction of Marguerite as he told Variety "The more we learned about this culture in medieval France, the more incredible she became. She stood up and spoke truth to power, at great risk to herself again and again and to an ever widening group of people. She was an enormously brave, heroic person. Our takeaways reading the book was this was the kind of person you should make a movie about."
The Last Duel undoubtably draws parallels between the politics and struggles for the power of women both then today. Judge for yourself later this week when the film hits theatre's.
Check out more Entertainment Now movie news, reviews and interviews here.