Ashley Stroud is a cabaret superstar, crowned the "modern day Josephine Baker" with the smoulder and sass to match. Last year Ashley first went viral as the star of critically acclaimed online music collective "Postmodern Jukebox" with over 40 million views and counting of their videos and iTunes top 10 chart positions. As one of the original cast members in the lineup, she toured Europe, the US and Canada with shows that included the Kennedy Centre and Madison Square Garden Theater. Ashley made her cabaret debut at NYC/London's infamous nightlife experience, The Box, and was featured as the ultimate Mistress of Ceremonies in the pages of V Magazine and Vanity Fair. She then became the breakout star of alt cabaret "Blanc de Blanc Encore" for a historic sold-out season at the iconic Sydney Opera House in 2019.  She is fresh on the London cabaret scene but has already performed at the Cafe de Paris, Proud, Phoenix Arts Club and Heaven. 
Ashley Stroud is joining the new cabaret show 'Carte Blanche' coming to 17 Hanover Square from 13TH October for 10 weeks, an unforgettable night of camp fun and cabaret performed by an all girl and predominantly POCcast of modern day Follies. Inspired by badass women and heroines of hip hop and Hollywood, Thee Showgirls will take you on a glamorous and colourful ride from Carmen Jones to Cardi B.  From shocking neo burlesque to jaw-dropping acrobatic feats, the Carte Blanche experience takes you on a journey of mind blowing mash up tributes to the women that never play by the rules.
Read the full Q&A with Ashley Stroud below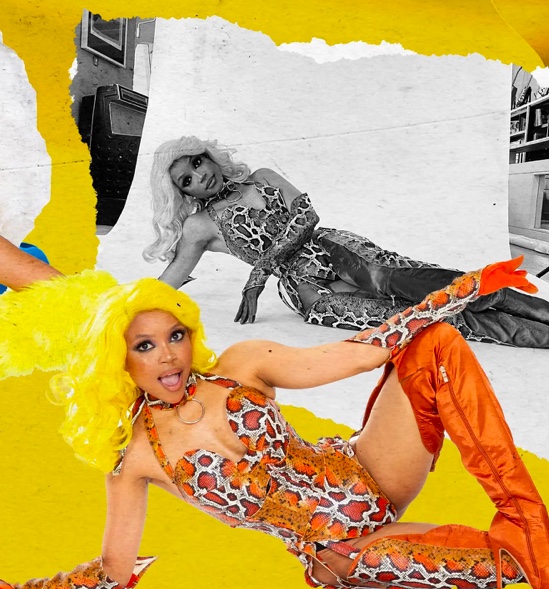 Q: Hi Ashley! How has your year been so far?
Hi! So far my year has been all over the place. Good, great, bad, and a bit of ugly. Probably like everyone.
Q: What was it like as a performer to go viral during a pandemic where live performance was scarce?
It was actually quiet! I hadn't done a video with Postmodern Jukebox in 5 years and I hadn't seen Scott in that time at all. I was flying out to LA for an audition and when I reached out we just put together a quick idea for Good as Hell. Like the rest of the world, I had no idea less than 6 weeks later we'd all be in lockdown. So the experience honestly felt very quiet because there was so much happening.
Q: How are you feeling about working on a whole new cabaret show in London after so many successful Postmodern Jukebox performances/tours all over the world?
Touring is actually exhausting! I'm excited to get on the road again someday, but I'm also loving getting to know the London cabaret scene. I fell in love with cabaret some years ago when I became the MC of The Box in NYC. It was just so honest. Here are our flaws, here's what we think, no hiding, just connecting in the room. Living in London now, I'm the new girl on the scene and everyone has been so welcoming. So this is crazy exciting for me to lead a show so soon after being introduced to the community. Scary, but it's good to be scared sometimes.
Q: Carte Blanche is an all-female and majority POC cast in a show that is focused on celebrating amazing female performers. What does it mean to you to be a part of this show and talented group of women?
This has honestly been an incredibly validating experience for me. The cast is unbelievable, everyone is at the top of their game and I think the audience will see that and appreciate the level of skill that all the women bring. This show feels so different from anything I've done because it's really the first time I've gone behind the scenes. I worked on the costumes with Bambi Blue who's incredible, and I drove the overall art direction of the show. The look and feel of this is so me. It's really my love letter to Black girls like me- I grew up loving Lil Kim in Crush on You as much as I loved Dorothy Dandridge in Carmen Jones. This brings all those things together in a really fun way. 
Q: What is next for you in your career after Carte Blanche?
I'm working on a single that'll be released in 2022. But I also hope the after for Carte Blanche is a long way away. I want to bring these showgirls to the world for a long time. 
Find out more about Carte Balance dates and ticket information here and stay up to date with Ashley Stroud on her instagram.
Check out more Entertainment Now news, reviews and interviews here.