Beyonce Did Good
Feminism in the first world has many voices
Not all of them likeable. Some of them labia witheringly negative. Too many of them drone through the deep, choking smug of the university cloister where the researching of a philosophical treatise supporting the premise Boys are Bad, Girls are Good, End Of is pretty much seen as the equivalent of flinging yourself under the King's horse at the Derby . Some even hoot triumphantly as the whistling brickie on the building site is rendered criminal under statute law, making, of course, everything alright now.
I think there was, at one point, a real danger that comedy, in particular, would drown in middle-class intellectual feminism and the world would never get to appreciate the kind of laughter that comes from the gut of a woman. Very often, the kind of belly laughing humour that women shared with other women.
There just has not been enough of it about.
And then came Luisa. And, eschewing Paglia and Dworkin, knowing there was someone who spoke to the heart of empowered young women who did not consider that herstory and chairpersons were going to make the world a wonderful woman-respecting place, she looked at female empowerment in a completely new way for a comic. She simply asked "What Would Beyonce Do?"
Good question. Well put.
So, as, still channeling the spirit of the Great B, she kicks off a new tour of a new show, I asked her some questions of my own
Read the full Q&A with Luisa Omielan below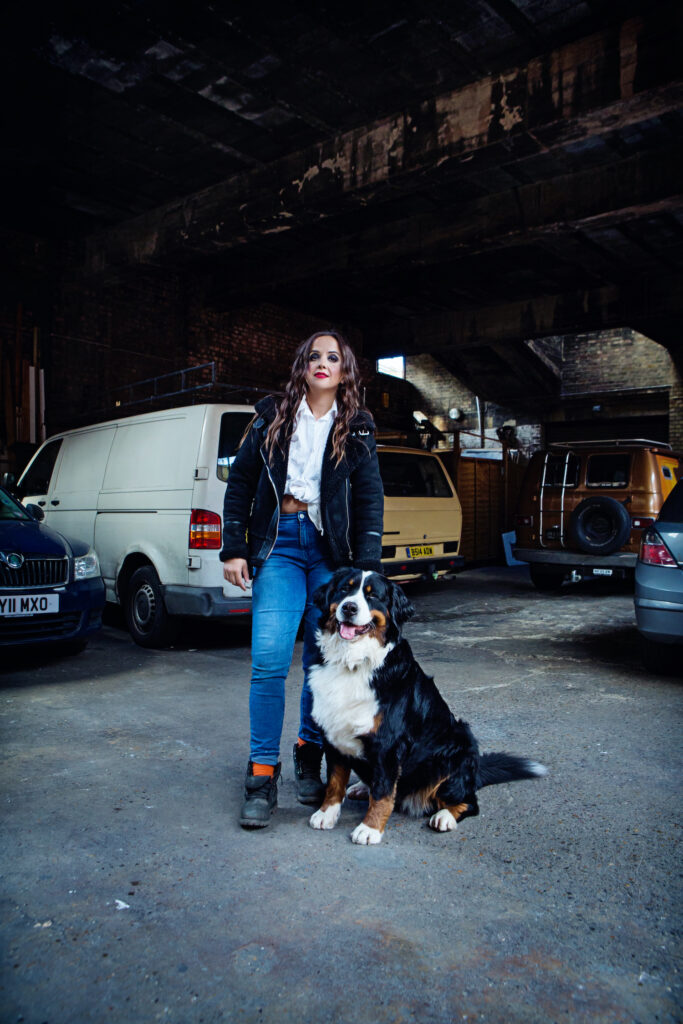 Q:Is this what you wanted to be when you grew up?
Luisa: I was always a massive attention seeker but incredibly shy and weird so I would perform in front of a mirror and seek attention, from myself and the imaginary audience watching. I loved performing. I wanted to be in films, on stage, on telly. From a really young age, about 4 or 5, I would get lost in comedy films and felt at home in their world and I never wanted to do anything else.
Q: When you wrote WWBD?! did you create it, mean it to be a powerful feminist thing ? Or did that just happen ?
Luisa: I had all this drive, talent, desire to show it off and frustration to just be heard. Life can be incredibly hard. I was so pent up, I was angry at life but knew I was funny. Just apparently, not when it mattered, not when you were being judged on how funny. I was useless in competitions, useless in front of industry and forever unsigned. That show was an amalgamation of me going fuck it, I don't see myself this UK stand up world, but I am funny, and I can rock it, so I created a show for myself, that I would love, that I needed to see and listen to. A show that I could be completely authentic but ones that would drive fans wild but also took on life's shitty stick. A concert if you like. And luckily, people came to my shitty stick life party. If it is a powerful feminist thing, it's not because I decided to write a powerful feminist show. It's because a young woman with a powerful desire to fucking be heard whilst being completely authentic, fucking roared.
Q: DO you ever feel you were 'before your time?' ? And no one has given you the mahoooosive credit for dooing what you were doing and when you were doing it ? I mean you were better, feistier, far funnier, feministier than someone like London Hughes could EVER be and you were ALL that years before she decided to repackage herself as being all "out there", Plus you took stand up to an audience who jst were not goiong to stand up before you. And Beyonce, of course.
Luisa: I have battled with timing and people have often been told I am ahead of my time, it has been frustrating, but its awesome when people like London said I paved the way doing my kinda shows. Anthemic. London is great and it's wonderful to see other female comics finally getting recognition but bear in mind they are not getting it here; she was treated as a joke over here. She had to go stateside to get it. Look at Gina Yashere, I remember I saw her sell out the Hackney empire, it must have been late 2010? 12?, she sold out the empire and was not on TV. She had to go to the states to get no less than she deserves. Fucking opportunities. In the states if you are a funny woman, they get it.
I am so ambitious (not very British and very much the immigrant blood in me) I have the love and support of my friends, people in the industry who champion me and most importantly, wonderful audiences, with that, I've always tried to find a way to achieve things. Okay I wasn't booked for Broadway, but could I do off-Broadway myself. So I did, okay it nearly killed me. But it is hard to push in a market that's saturated, you need time and resources. Unless you have profile or the cash to throw at advertising in order to get bums on seats, it's incredibly challenging. It's all about the profile.
When I broke through in 2012, TV in the UK felt slow and at the time I didn't have a script written or the confidence to be in a panel show. I had just poured my heart out on stage and was like, is that not enough? I didn't have a business plan and didn't know how to capitalise on it. I just knew that I had a world of audiences out there who would love what I do. Now if a show as powerful and breakthrough as WWBD came out, it would be all over Netflix.
Q: Do you honestly feel that things are tougher in stand up for women ? Even now ?
Luisa: I don't see many people with the back catalogue and diversity of live shows that I have. I've done Beyonce, a show that for me, was so important to welcome and appeal to the girls and the gays of all ethnicities, that was my primary focus when it came to marketing that show. I've done shows body image and mental health which had a clip that went viral around the world with over 45 million views. I have taken on Politics and legalising Cannabis oil and Euthanasia and Now I am doing a show on Religion, because like Sister Act 2 says, I'm Electric. ("Eclectic, not electric, stupid")
So in answer to your question. Is it harder for women? Yes. Very much so, and anyone who says it isn't, is talking bollocks because they have them. It is harder in every fucking field. All the time. Ask any agents, writers, producers, Mums, Doctors, Lawyers etc.
Most of the male comics I started with are now household names and don't get me wrong, they are all brilliant and have worked very hard, but we have all worked hard mate. And listen, there are so many brilliant men who aren't where they should be either. UK has a class problem, it is racist and sexist and it is all bs. But it follows audience trends. And I am just continuing to build. I am in it for the long game, what is it Eve sings….'took a while to get me here and I'm gonna take my tiiiiimme." I just need to maintain my passions for stardom with my need for comfort and daily naps. But like every other female comic out there, I can't afford to be shit. Be shit and you have to quit because short of doing god knows what, I have no ball sack or inheritance to fall back on.
Q: Did your mum's illness and death change you as a performer ?
Luisa: It changed everything about myself and about my life, on stage and off. I used to think I was magical and could achieve anything. That I had this divine rite to perform, and it was my gift and all there waiting for me. My idea of destiny. My Mother's death was a crashing reality of horror and heartbreak. You can dream all you like, but if you don't have access or finances, death can be unimaginably cruel. I lost faith in life, not my talents so much, but in the point of them. I lost joy.
It's been a long 4 years, but I have turned a corner, with this show especially, I feel very lucky and grounded and so happy to perform it. Since lockdown ended, I have been gigging every week at Top Secret Comedy Club and I swear down, it's one of the best comedy clubs in the country if not the world. I fall in love every time. The audiences are reckless and wild, and it can become carnage in the best, purest, truest form of a late-night stand-up night. It is epic, I am here for it, and I am much less attached to the outcome. It's just present isn't it. Doing these shows with those gigs, just makes me feel lucky to be alive.
Q: Tell me about your mum … how much of her is in you onstage?
Luisa: Haha aww all of her, if you asked her! My Mum was a wonderful teacher, a true vocation, she was brilliant at it and often citied her ability to do act outs and characters as the reason her students could connect with her. So, she always told me, I got my performing bones from her.
It's very strange, I think because I am very happy when I am on stage, i feel very connected to her. Performing live show is an exchange of energy and light with an audience, I know it sounds wank, but it is. I feel very close to her on stage and when I am having a wonderful time, I only feel love and think of her.
Q: With WWBD and Am I Right you kind of reinvented female stand up. You spoke for all the young women who didn't get a voice anywhere on a stand up stage – the Bacardi Breezer girls ( as one male critic sneeringly called them, I hear) – and you spoke to them. You fucking changed stand up! Er … discuss. Did you set out to do that ?
Luisa: I mean this is lovely, can you put that on my Wikipedia page and in a covering letter to the head of Comedy specials at HBO/ Netflix/Amazon /Apple please. Also, if you wanna get in touch with Barcardi, I am happy to work with them and create brand positive content.
I set out to unleash whatever it was in me that had a drive to be on stage, it's all I could ever eat, sleep, think and dream about. So that's what I did. Just that, it's what I've always said to anyone who asks for advice in comedy, to thine own self be true. That's it, that's the trick.
There are so many incredible stands up, that no one has ever heard of in the public domain, and they change the fucking game. I think some people have a calling and life is hard and so they throw themselves into their art. And that's what becomes recognisable. True artistry, once seen and understood, is then much easier for other people to mimic.
Q: Do you worry about wokeness?
Luisa: What's there to be worried about? Being awake to social issues. I am more worried about those that are sleeping in the dark ages, worried about the rise in incel culture, homophobic attacks, a role back in women's rights, and the cretins that are in power destroying the freedoms people have died for. Wokeness aint the problem. I am not worried about learning new information or increasing my understanding or having an opinion, I am worried about how selfish we are getting and what we are settling for, any opposition lends itself to a holier than thou onslaught.
We are creatures of habit; we don't like change. But we do like growth, and I think if we can all show a little bit of empathy and understanding and recognise that society changes but fuck me its slow. It's slow moving forward but it takes nothing to look back, we have so much horrific history to learn from and never repeat and yes, we are finding ourselves in dangerous times. That scares me. Some people are dicks and don't know it, some people are dicks and apologise then try to be better, and some people are just plain dick dicks, they know it, wear it like a badge of honour and make no amends to fix it. I am worried about the last one having more influence than the second. We need much more of the middle. I didn't plan on ending with a Goldilocks of dick analogy. But here we are. And just for reference, I love a big dick but only when I comes to penetration, I need it to match my big vagina energy.
Q: OK, we are not just here to blow smoke etc … Time for the sales pitch : tell me about the new show – what is it? Why this? What do you want it to do? *lights pink touchpaper and then retires *
Luisa: I am in love with this show, I feel like I am right on time. It's very reflective of what we have been through and where we are going. It features Bible reference with cunnilingus jokes, it's the Sunday Sermon I always wanted. And it came from a place of finding light after loss.
I just started ready books about the Bible and was like where the fuck were all the women. We have been gaslit since day one. Virgin or whore? But what about the funny virgin or the boring whore?! Where's the mother? Where's the bad ass? Where are all the gays?! And it was from that I started learning so much about the worship of women, throughout the world.
So it's a show that explores that, and women in religion, and my Muslim Pakistani Painter Decorator, and my Polish Mum, Giant dog Bernie, Mary Magdalene, DIY. Like I said, It's eclectic, and beautiful. I am proud of it.
I feel like I am fulfilling my purpose with this one. Well with all of them really, but I had lost it for a little while and its gorgeous to have it back.
Luisa Omielan's 'God is a Women' tour is finally underway! Check out the upcoming dates below.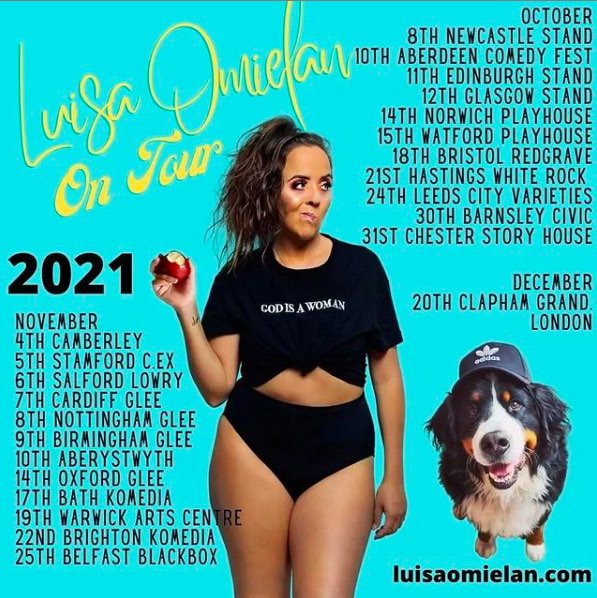 December 2021
Stay up to date with Luisa Omielan on her website and social media!
Check out more Entertainment Now comedy news, reviews and interviews here.