Grace Eshel takes us through some of the most memorable spring and summer episodes of the beloved US television series, Gilmore Girls.
As many would agree, Gilmore Girls is the ultimate Autumnal show. With its earthy colour palette and coffee sipping main characters, it's a cosy classic. However, I am, and always will be, a summer person. Thus, I have compiled 6 of the best Gilmore Girls episodes to get you out of that winter slump and straight into the crazy spring and hazy summer of your dreams. So, throw on a pair of sunglasses, grab an iced coffee, sit back, and add these summer bangers to your watchlist!
1.) Season 4, Episode 17 – 'Girls in Bikinis, Boys Doin the Twist'
The dark days are over, the sun is in the sky, the Girls are spring breaking in Florida. The first pick I have is the oft overlooked, but totally brilliant, 'Girls in Bikinis, Boys Doin the Twist' (Season 4, Episode 17). This largely serves as a filler episode for Rory and Paris, and the Jason-Luke-Lorelai love triangle playing out back in Stars Hollow. As we all agree, Jason is useless but it's a bottle episode for the college gals so who cares?! This episode as it's completely ridiculous, hilarious and plays host to the iconic duo Madeline and Louise – queens of Chilton – making a comeback. Cliches are turned up to the max in this one, as the girls have the stereotypical college experience. Basically, it's what all of us overseas people think American college life is. Now let's be real, it's a safe summer classic because we all know Lorelai isn't getting back with Jason, I mean his nickname is 'Digger'. What is he? A JCB? Urgh, it's literally the most pointless attempt at drama but you have to love the commitment to the character devolution in this series.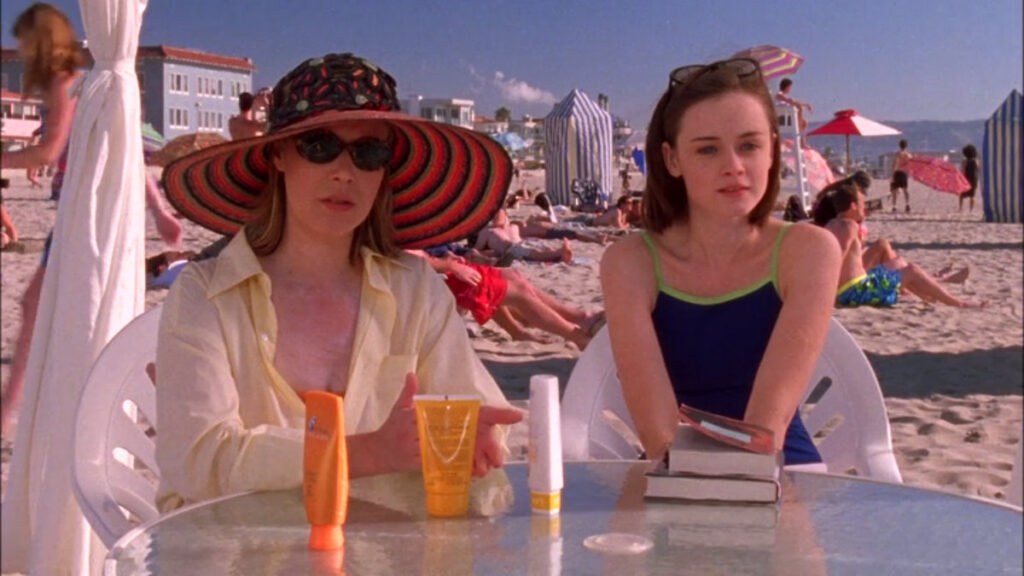 2.) Season 1, Episode 21 – 'Love, Daisies and Troubadours'
As a season 1-4 loyalist, I couldn't help throwing it back to the very first finale with this pick, 'Love, Daisies and Troubadours'. Albeit a popular Spring choice, this episode has all the drama your heart could possibly desire – Lorelai and Max, Rory and Dean, Luke and Rachel – all wrapped up in a bouquet of a thousand yellow daisies. Now, this is the love triangle we want, not Mr. JCB, not Max Medina (although he's not as bad, just really needy). No, this episode we have the metaphorical big guns out as Luke and Christopher go head to head. Move over UFC, get out of the way, WWE, this is the low level, always brewing, stupidly executed at most times, best of the worst conflict of the entire show. On the other hand, we have three teenagers running around Stars Hollow like it's a hamster ball, going round and round in circles trying to figure out who's the best match for Rory. Honestly, I love how petty yet heartwarming and heartbreaking this show is. On paper, the plot does seem kind of boring but it works so effectively in the early season, and this momentum does carry through till about season 5 (but that's a generous estimation). The early seasons seem a lot more authentic and genuine and as if our main cast are actually trying to find the 'right' answers. You feel attached to them, as if you're watching one of your friends make these decisions – you just want the best for them. Side note: this is one of the biggest reasons the later seasons are so frustrating, our main cast – especially Rory, Lorelai, Luke and Christopher – fall into the trap of making the same choices over and over again. They try to make everyone happy and yet everyone ends up hurt to some degree. Anyway, as I was saying, early-season supremacy, go watch 'Love, Daisies and Troubadours'.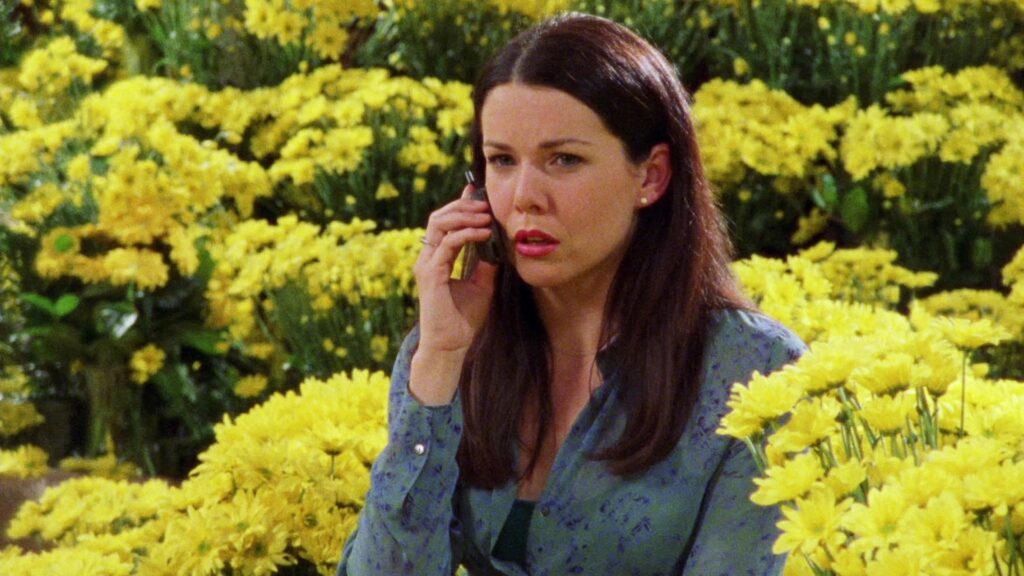 3.) Season 3, Episode 1 – 'Those Lazy-Hazy-Crazy Days'
One of the most divisive romance plots of the entire show returns again in season 3. It's dramatic, it's tense, it's crazy, it's borderline stupid but it's also smart. It's a teen show staple, the very foundation of Gilmore Girls, you can pretend to hate it but that just wouldn't be true; it is, of course, the good old fashioned love triangle. This simple concept, executed exquisitely throughout seasons 2 and 3, has a landmark milestone in the opening of the latter. Rory arrives back in Stars Hollow for the End of Summer Madness festival. As the last of the thick summer air descends on our favourite small town, Rory realises (in a fantastic moment of dramatic irony) that maybe she does like Jess…like, like him. 'Those Lazy-Hazy-Crazy Days' is all-out Gilmore Girls early-season nostalgia. Oh, and don't worry, there's more than enough will-they-won't-they Luke and Lorelai content for those less enthused by the teen love triangle. But really, if you're more invested in Luke and Lorelai, you should check your priorities.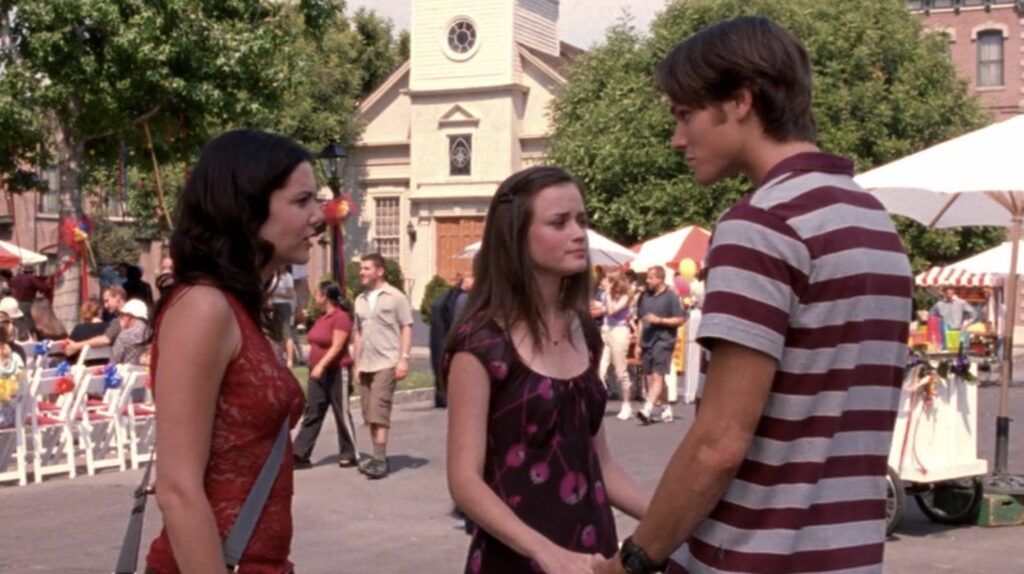 4.) Season 3, Episode 22 – 'Those are Strings, Pinnochio'
Would you look at that, we've come full circle. Ending season 3 is the perfect spring-into-summer mashup. It's the one to make you cry. It's one massive nostalgia-fest and I love it. The finale, 'Those are Strings, Pinnochio', shows Rory and Paris graduating from Chilton and preparing for the summer of dreams in Europe before embarking on their Yale arc. There's nothing not to love about this episode and it's the perfect summer pick because it closes seasons 1 through 3 so effectively and cleanly. It'll make you forget all about Mr. JCB and it marks a clear milestone in the Gilmore Girls world, it also never fails to make me uncontrollably sob. This is one of my top picks on this list, especially if you're feeling the hazy summer night nostalgia kick in. This, again, was the idealised all-American high school graduation us kids from the rainy UK could only have dreamed of. Fallacy aside, grab a box of tissues and press play.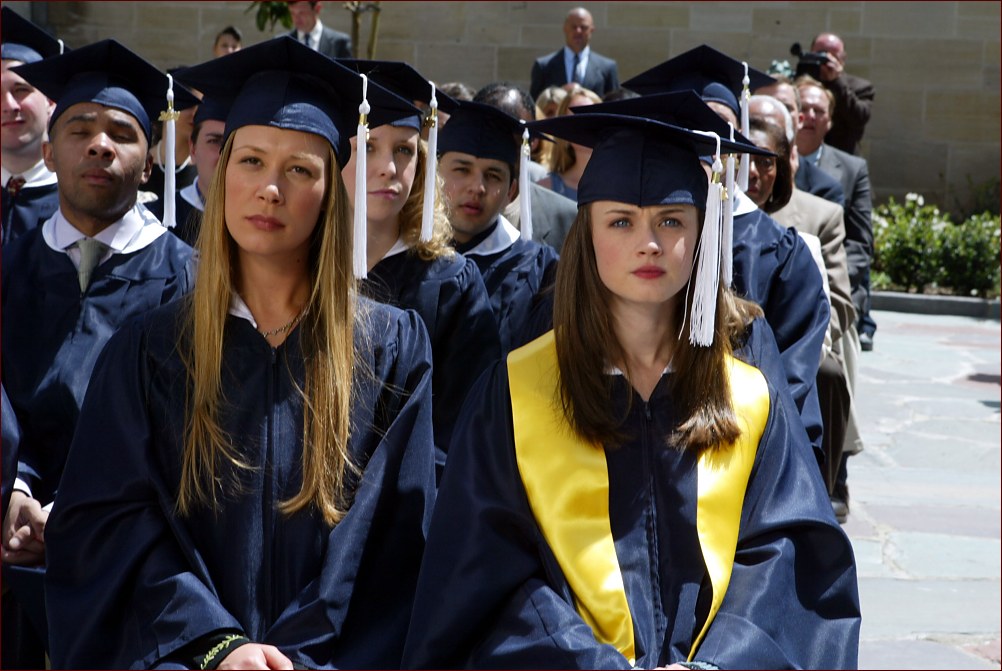 5.) Season 4, Episode 21 – 'Last Week Fights, This Week Tights'
'Last Week Fights, This Week Tights', is a quintessential Gilmore Girls classic. An often forgotten one, perhaps, yet this features everyone's favourite quirky couple – Liz and TJ, of course – and their wacky renaissance wedding. These are the side characters no one ever knew they needed. These are pillars in the somewhat quirky Gilmore Girls aesthetic. Joining these two in the side character hall of fame, Mrs. Kim also appears to examine Lane's new living situation with her band – characters that get criminally little screen time (I write, whilst wearing a Hep Alien T-Shirt). I mean come on, Lane and the band going on tour was hands down the best irrelevant side plot of all time. This should really just be made into its own series. Let's be real, if they had a dog, it would essentially be Scooby Doo. Alas, I digress. When we return to the plot, only to find Jess' storyline coming to an end (I'm not crying, you are) as he walks his mother down the aisle before professing his love to Rory and proposing she runs away with him. There's so much happening, it's so overwhelming and quite frankly this curveball never fails to shake up the tone of the episode, nay the entire show. The Jess and Rory relationship is touted as the blueprint from the 'Right Person, Wrong Time' trope, it's heartbreaking and never fails to get us all. However! This episode is not only for those whose sweet summer relationship has turned sour, it's for us Hep Alien groupies, Mrs. Kim stans and Liz and TJ defenders.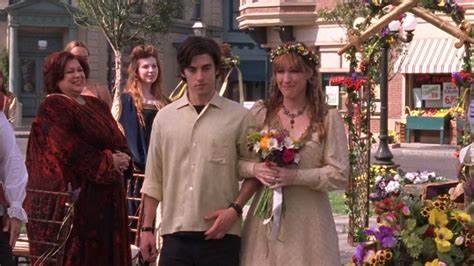 6.) Season 5, Episode 7 – 'You Jump, I Jump, Jack'
Venturing outside the comfort that is the early seasons, my final pick for this list is 'You Jump, I Jump, Jack', a milestone episode for those Team Logan hooligans. And no, that wasn't a mistype, Logan fans are better than Dean apologists but please, the best part of the Netflix revival was the fact Rory and Logan didn't work out. Anyway, brushing the reservations aside, this episode is perfect for that slow yet steady August-melting-into-September's-warm-but-definitely-autumn vibe. This episode follows Rory as she gets an exclusive peek into the Life and Death Brigade's strange activities. The camping, the lanterns, Rory's dress, it's a perfect episode for a hot summer's night, knowing the golden autumn isn't too far around the corner. The show uses this aesthetic to cleverly and definitively mark a new era for Rory in the show.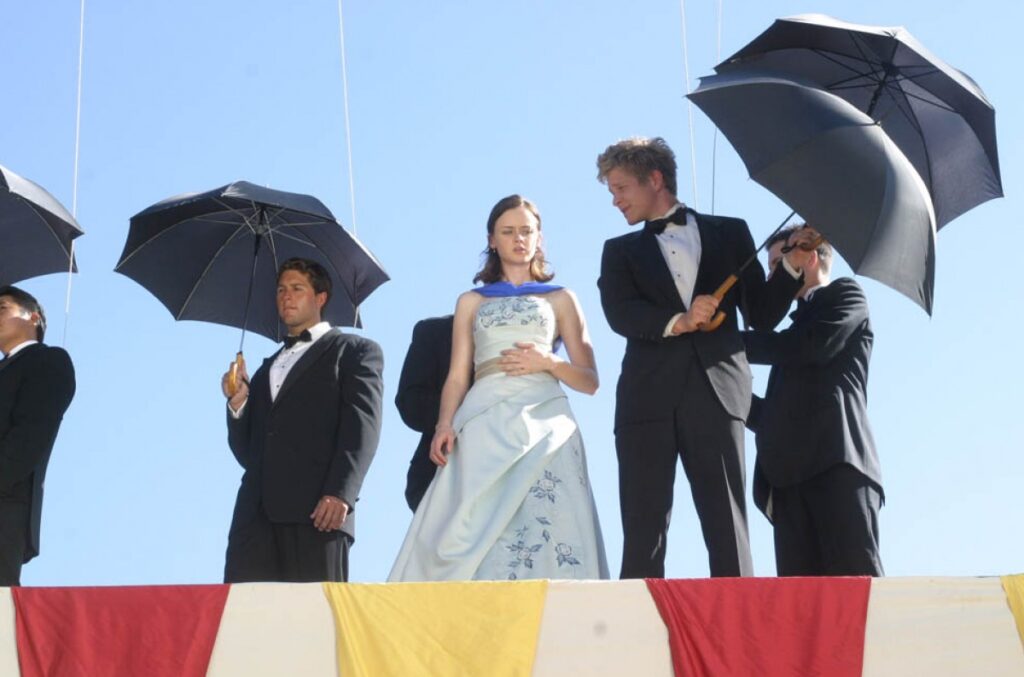 Check out more Entertainment Now TV news, reviews and interviews here.