Our bewildered music industry inside outsider continues his quest to travel from east to west to see 365 live acts throughout 2022. Actually, since the oddball antics of early February, when The Korgis supported The Korgis, we are now looking at seeing 365 live performances this year. Our rules: we make 'em, we break 'em. Onwards! When we were kids, you generally knew what you were going to get with a band by looking at their name. The Clash. Theatre Of Hate. Southern Death Cult. Bum Gravy. These were monikers which resonated with a certain worldly strength, names which said "This is what we are. Hear us roar." Fittingly then, downstairs at the Hope & Ruin in Brighton City, WELLY certainly do give it some, well, welly. They number six, all seemingly wearing baggy P.E. kits from 'Chariots Of Fire', and they make an excellently rubbery upbeat racket which, much like the name, is perfect for muddy festival fields the nation over.
BABA ALI, on the other hand, fit the modern pattern for being rather more opaque on the name front. If the moniker is mysterious – is it a man, is it a plane? – then halfway through their set at Patterns the following stormy Brighton night their sound is just as hard to define: two boys, some keyboards, one guitar and a singer whose has seemingly parachuted in from some American airbase in 1944. Their musical playground is the '80s, but in an abstract way – squint hard enough and you can detect them deconstructing 'Construction Time Again' by Depeche Mode, while come the last track they are letting off the shackles and seeing the spirit of Heaven 17 settle over 'Blue Monday'.
Baba Ali are vogueing in support of recent album chart insurgents YARD ACT (kept off the top spot by Years & Years), personable Yorkshire souls who have successfully battled through Storm Eunice to bring some pithy fun to the south coast. There is unfettered joy in the gnarly performance of singer James Smith – half a pint of John Cooper Clarke mixed with half a pint of Paul Heaton-gone-trainspotting. If the foursome's previous stints in Leeds acts with names like Menace Beach and Post War Glamour Girls hints at grubby gigs gone bad then the success of their 'The Overload' opus is unlikely to see them going over the top on the glam front any time soon. With the fellow northern likes of The Lathums you could say they are children of the Arctic Monkeys in terms of their articulacy and authenticity, but there's also a lovely wobbly undercurrent to YARD ACT which is royally reminiscent of Cud.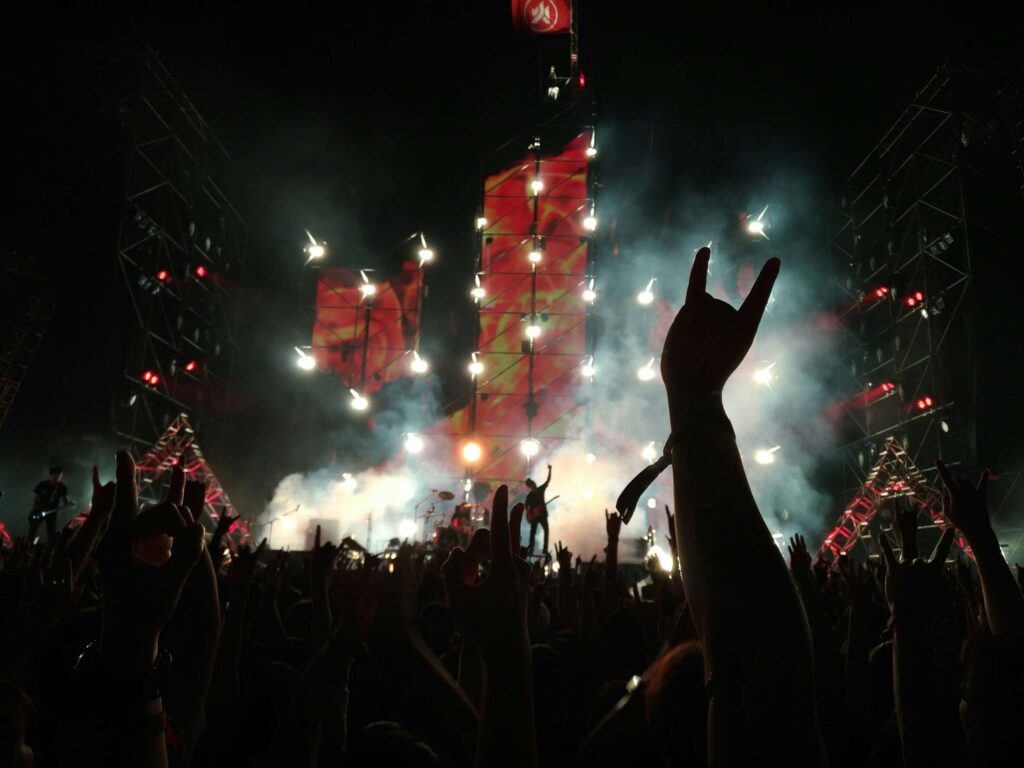 The Pandaman is standing right behind a man who is clearly modelling a mullet. Brighton, eh? Over at the Komedia Club in the Lanes there are more genuine laughs a'plenty as comics VLAD ILICH and JEN BRISTER ruffle the feathers of the hen and stag-do brigades. Jen is the sassy, spiky local with a gently incredulous obsession with the curious products of a certain Ms Paltrow and a rather more raucous outlook on lockdown parenting. It's a cavalier combination marked by some terrifically traumatic microphone effects and eye-popping she-didn't-just-say-that punchlines.
Vlad is an interesting international diversion, and not only because of the first name shared with a certain Mr Putin . He could be seen as peddling the foreign comedy cliches laid down by Ali G or Harry Enfield's Stavros ("Madonna kebab," indeed) were it not for the fact that he is actually from North Macedonia. Cue a boatload of Brit-skewering asides, an excellently mangled take on English swear words and immigrant jokes about, well, migrants. In a week's time total war will break out a mere 19 hours drive away from Vlad's homeland. Might as well Gwyn and bear it while we can.
This is our favourite time of the year because it's fierce panda's birthday on February 24th so we normally have a few cheeky gallons of live love going down. Blushing pride prevents us from flagging up the chiming melancholy of CHINA BEARS or the sugary grunge lunges of WYNONA BLEACH, who play together at the Lexington, but we will give a heads up to DESPERATE JOURNALIST. As we're sure you know the boy/girl quartet's name is cribbed from a Cure Peel Session track mocking an NME hack. Unsurprisingly then there is a lowslung quality to DJ which has led to me describing them as noirish shadowy indiegoth dreamboats for roughly ten years, or over about 27 press releases covering four albums. Imagine my surprise then at their boisterous Lafayette show in King's Cross (lovely venue by the way) the three stand out tracks are 'Cedars', 'Personality Girlfriend' and the ever-irrepressible 'Be Kind', all of which are hyperkinetic explosions of melody and therefore barely gothic at all. Back to the clawing board, then.
From the children of the Arctic Monkeys to the second cousins of the mid-noughties London scene we go, with HOME COUNTIES homing in on the Lexington up the Pentonville Road. For theirs is a boisterous, energetic charge back to a time when jagged guitars jostled for attention with nu-rave, like The Rakes rucking with Klaxons, which means it's cheeky and furious Art rock in spades. It's hectic onstage, it's hectic in the moshpit, it's hectic in electric dreams. One of the songs sounds ever-so-politely like 'My Sharona', but Home Counties are not knackered at all. Come the end of February we haul our weary gigging bones to Dream Bags Jaguar Shoes in Old Street after a really elegant and eloquent funeral for an old friend, Andy Ross. We miss HighSchool – word from the dazzled basement bar is that they were really good – but slide on on down in good time for FREAK SLUG.
Working on the sturdy premise that nothing is at it seems anymore with any band names you'll be unamazed to hear that far from being some gruesomely greasy slime rock act, Freak Slug is actually one diminutive woman from Manchester who comes armed with little more than a drum machine, a second guitarist and her own giant red guitar. The crowd towers over her in this stage-free venue, but her music towers back over the crowd, it being chockfull of celestial chiming goodness and sultry shoe crazed vocals. Good fun. Doesn't sound anything like what you'd expect. Etcetera. Pandaman's 2022 'performance' total: 56
"Check out more Entertainment Now lifestyle news, reviews and interviews here."