We joined other members of the press and media who gathered at the Soho Hotel in London last Friday 8, July for an exclusive preview of ITV's new psychological thriller, The Suspect. Following the screening, some of the cast and production attended the event for a Q&A. Those in attendance included cast members Aidan Turner (Poldark, Leonardo, The Hobbit Trilogy), Shaun Parkes (Small Axe) and Anjli Mohindra (The Lazarus Project, Vigil, Bodyguard), as well as screenwriter Peter Berry (Gangs of London), director James Strong (Vigil, Liar, Broadchurch) and executive producer Jake Lushington (Vigil, Born to Kill).
The first episode that was screened at the event introduced the leading role Doctor Joseph O'Loughlin (Aidan Turner), a man who on the surface seems to have the perfect life – a loving wife, daughter and successful career as a clinical psychologist. The series opens with a dramatic scene that sees Doctor Joseph standing on a ledge of a tall building to save someone who's considering suicide. But all it takes is a murder victim, a troubled patient and one monumental lie, for him to go from rooftop hero to likely sick killer.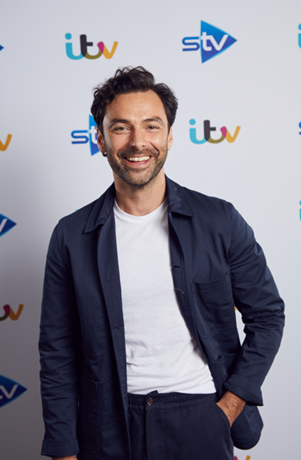 Speaking to us about the leading character who undergoes a huge change in the first 50 minutes of the show, Turner revealed, "He's a complicated person. But that's what was interesting about it.
"His recent diagnosis [of Parkinson's] is something that when I first read it, as a reader I was qualifying the decisions he was making because of that," he said. "But then you're thinking is it just an excuse, is that problematic for him, would he have done this anyway. He's just a very interesting character. Very layered. He makes some decisions that are very questionable. I think it's interesting to have a protagonist that's so flawed and for me to play someone like that.
"In recent past, with other characters I've played, it's been that there's a moral centre and a compass, and that's the direction we go in," Turner added. "Not to say he's not a good guy. But he feels real and layered and difficult. What was really interesting for me reading the character, was the ambiguity around good and bad. Is he good or evil? Is he both? Can you be both? Where's the lie and is there some truth in that lie?"
From World Productions, producers of The Pembrokeshire Murders and Vigil, this gripping new five part thriller is based on the bestselling novel by Michael Robotham and adapted for television by Berry. Speaking on the origins of why this novel was chosen, Lushington explained, "Both my parents are consumed by thrillers (and crisps…), so I'm always dipping into them. But normally when I dip into them, either the tone or the way they tell the story, I think they work perfectly as books but can't quite see them as adaptations. But this one was the complete opposite. I was thinking quite visual as I was reading it, and I couldn't stop reading it."
Meanwhile screenwriter Berry spoke about the process of adapting the novel to screen, "The book is 400 pages long and all from Joe's point of view. It would have been a bit of a killer really, to find out if he's guilty or not. So it's adapting it from everyone's point of view, not just Joe's."
Talking about the dramatic opening scene, Berry continued, "It's not quite how it is in the novel because it was enhanced by fantastic direction. And Aidan actually falling off the building of course."
Director Strong added, "It was complicated. You have to look at it and work it out as if it was for real. Then you take it apart and look at all the different elements. It is about constructing the jigsaw of all the different pieces. Where can we shoot that bit, where can we have Aidan for real, where do we need stunts or green screen and what can the effects give us credibly that you can believe and you can sell the sequence.
"We did actually do as much of it as we could for real," he revealed. "So we were hanging people off that big building in Paddington Square. When you've got that real big base towards doing it, then it helps sell it. But it was a complicated sequence of all of those elements coming together. It's an amazing building that we found for our whole hospital. It's right in the centre of London and I wanted London to be a character in the whole thing. And it was great that they let us put people standing on the ledge of that very narrow balcony."
Not only does the series feature character shots of the city of London, but it also feels heavily relevant to recent news around violence towards women. Parkes, who plays the role of DI Ruiz, said, "Throughout the whole series there's echoes to real life."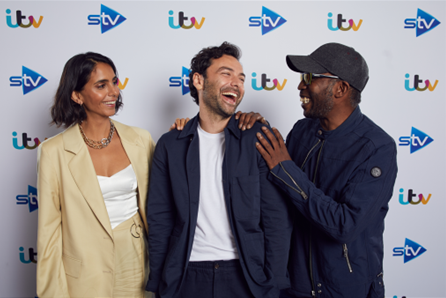 Acting alongside Parkes as DS Devi, Anjli Mohindra gave her take on what it was like to play this role, "I focused in on what it would feel like for a woman dealing with a case like this that affects us, like with the Sarah Everard case and then Sabina Nessa. We all know how it feels to be a woman in this country or on this planet.
"At the moment with things like that happening, at least we're talking about them more," she added. "It was great that we got to play these moments where you to see how a woman police officer would react to a crime like that."
Other actors who feature in the series include Camilla Beeput (Save Me, Sick Note), Adam James (Vigil, Doctor Foster), Bobby Schofield (Time, Anthony) and Sian Clifford (Fleabag, Quiz).
With how decisions were made about the casting, it was revealed that no single actor was in mind for the main role of Doctor Joe, but Turner was "definitely on the list very early on" according to Lushington.
The Suspect, coming to ITV next month.
Check out more Entertainment Now TV news, reviews and interviews here.