Award-winning Cabaret act The Tiger Lillies are bringing a new show to London's Wilton Music Hall this Tuesday 6. Based on the First World War masterpiece, The Last Days of Mankind, the songs are inspired by the anti-war satire created by Austrian writer Karl Kraus.
The epic play was written in Vienna during World War One by Kraus and the text includes overheard conversations, newspaper reports and political discussions – reflecting the conversations happening among coffee house radicals during the war.
Songwriter and singer Martyn Jacques said: "Kraus talks about all the horrible things that happen in war. The starvation of the poor and the children, the deserters running away and being executed. It is all very poignant.
"The nastiest people start to control everything and petty bureaucrats wield power," he continued. "It's a nightmare.
The songs during the play follow a society marching to self-destruction, and are more relevant than ever in light of the war in Ukraine.
Commenting on the current war, Jacques revealed: "We have spent a lot of time in Ukraine and we are very upset about what is happening there."
The Tiger Lillies, who have a large following in Russia, have made the decision not to tour there and members of the group have collaborated with Ukrainian band, The Hypnotunez, and Ukrainian animators to produce an anti-war video.
One of the original cast members, Antonina Romanova, is currently continuing to fight on the front line in Ukraine.
Speaking from Ukraine, Antonina Romanova commented: "I thank the Tiger Lillies for their constant support in these difficult times. This is very important for us and for me personally. You guys are incredible."
The Tiger Lillies – The Last Days of Mankind
Wilton's Music Hall, Graces Alley, London E1 8JB
September 6 – 17, 7.30
Running time 90 minutes, 20 minute interval
£11.50 £24 full price/£9.50 – £22 concessions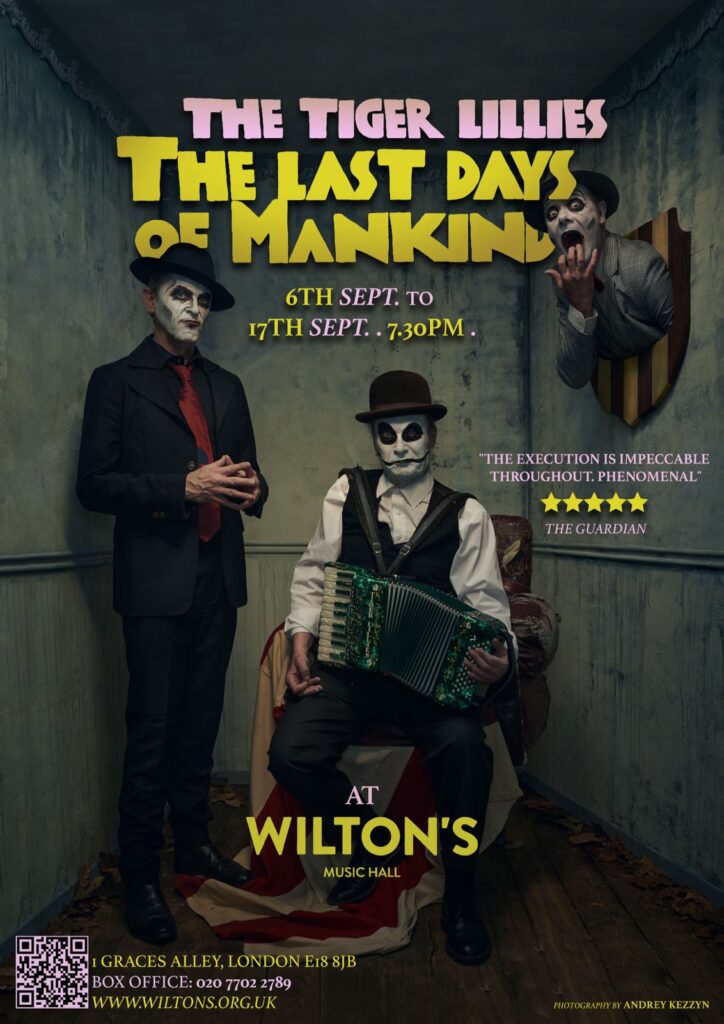 Feature image by Andrey Kezzyn
Check out more Entertainment Now theatre news, reviews and interviews here.