Formed in 2019, Caravan Dream are a multinational rock band consisting of expats living in Qatar. Following their recent single release 'Fantasy', we chat to Hadi Assoum (lead guitars & piano) their background, musical influences and forthcoming album…
How did you guys meet?
The four of us have resided in Qatar for a while and have always had different professions each varying from Architect, Accountant, Teacher, Computer Science besides playing in different local cover bands Over Your Head, Music Vending Machine and Hot Mess separately. On many occasions, our bands shared the same stages, concerts, venues and jamming sessions over a number of years. We ended up having a couple of jam sessions the four of us and formed a cover band called Bottomz UP whose first public appearance was as a support act at a music festival involving Boyce Avenue, Bazzi and DJ Marshmallow in 2019.
The band started bonding together and the fun just began… we felt that we just completed each other, everyone was bringing his own influences and backgrounds to the jam sessions which made it a fruitful musical salad.
Where did the name Caravan Dream come from and what does it mean to you all?
Caravan Dream was born during the toughest time in a century, while having a pandemic on going and lockdowns everywhere, in addition to the stressful life style of work and the rest of chaos happening around the world from wars, hate and greed. We found the pace of everything is extremely fast to handle and we wished things would just slow down and the complicated just gets simple.
So we felt like we wanted our band to be the escape and the gateway to a more peaceful, dreamy, easy going, slower pace, simpler lifestyle. Like a journey on a Caravan where the destination doesn't matter as much as the appreciation, peace and fun are right now! It is a CARAVAN DREAM!
Describe yourselves in 5 words
Dreamers, Energetic, Hard-workers, Versatile, Persistent
Who are your musical influences as a band?
Looking at the influences of each one of us, the contrast is bold like day and night, however we consider this as our main creative wealth. The varieties in our individual tastes swing between Hard Rock, Psychedelic Rock, Grunge, Pop, Reggae, Rap, Funk & Electronic music. If we are to shortlist our long lineup of musical heroes individually, we would at least mention The Beatles, Red Hot Chili Peppers, Audioslave, Pink Floyd, David Bowie, Bob Marley, Nirvana, Placebo, The Doors, Led Zepplin, Michael Jackson, and many more. On the other hand, we, collectively, have our common ground where we find ourselves more bluntly fitting under the style and main influence of acts like Coldplay, The Killers and Kings Of Leon.
The new single is called 'Fantasy' – what is the song about?
Amid this wild world and this era of craziness and uncertainty, we all need an escape and this is where 'Fantasy' came from. Our lead singer wrote a song building his very own surreal world that he wishes to escape to, a judgement free world where there is no place for natural disasters, wars and sadness. A world away from robotic and heartless surroundings where we all could be happily equal as non-clustered, unlabelled and uncategorised humans. Maybe too good to be true, but hey it's our 'Fantasy'.
The forthcoming album will also be called 'Fantasy'; when will it be released? Can you give us an idea of what to expect?
October 13, 2022 is the release date.
The album contains 7 songs that are written in different circumstances, moods, and inspirations between 2020 and 2022. They are a bouquet of tracks selected to be released out of some 15 different songs written by the band:
'Moonlight' is for us the positive vibes of dance pop-rock intro to the album outlining a light romantic little story that takes place on a shoreline after a night out. A groovy track to dance to and friendly listening for different atmospheres whether on a night out, for a BBQ party, for a car drive, or other feel-good environment.
'Fantasy' is our escape from this current format of the world to our own surreal one, a refuge and parallel world through a disco and funk rock outline. Our rhythm section takes over this track while we throw a screaming guitar instrumental in the middle to emphasize this journey from a world to another.
'Constellation' is romantic, vibrant, and spacy! It is when love guides people to look towards the same direction and just to do it all their way! It is a feeling bigger than space and the entire universe. A bundle of Violins & Cellos strikes, and rhythms surrounded by melodic guitars and solid drum and bass pulse.
'Lines' is somehow the black sheep of the album! It is obviously a drift of genre in comparison with the other 6 tracks. It is a mix of Grunge and riff-based rock separated by circus like ballads that reminds us of Jim Morrison flavored melodies for the verses, while a super funky break in the middle highlights the self-confessions reflected in the lyrical flow that no matter who you are and what you do and where you are things are relatively the same but in different shapes and perspective. This song is our philosophical portal to spit our inside out and call for loving the journey more than destination and to love life and live it now and dance to it, like RIGHT NOW.
'Home' would be our most emotional and melodic track where we have invested more parts of our souls in it than technical input. It expresses that magical feeling that every person calls "Home" and fills their heart with warmth and enormous comfort. It could be your loved one's smile, or your pet, or your Christmas dinner, the smell of the town where you were raised, many things could give you these chills and make you feel at home. Home is a soft indie ballad colored by piano, acoustic guitars, echoing electric guitars and wide back vocals.
'Rock And Roll Girl' is what our guitarist calls his little 3 years old daughter who was his inspiration to write this song that is all the way a women empowering track and a call for any woman (friend, sister, daughter, mother, neighbor, or any random person) to just shine and be herself and to shape the world the way it fits her and only her without worrying the tidal movements of society.
'Into Your Maze" is our pumped-up groove accompanied with an overdrive guitar line through the song giving more of an alternative and indie rock flavor. This song discusses a common self-conflict that most probably every human faces with their addictions to things and people and the fact we get stuck in the love-hate relationship with our work, cities, partners, drugs, almost everything. We love them but we need the space and we run away from them. It is a maze indeed!
On the 'Fantasy' theme: who, alive or dead, would you invite to your fantasy dinner party and why?!
Oh dear! We might need to send a Caravan to collect a bunch of them all together! We would invite Chris Martin, Brandon Flowers, Bob Marley, John Lennon, Joan Baez, Syd Barret, Jim Morrison, Dave Grohl, Chris Cornel, David Bowie, Curt Cobain, Amy Winehouse, and a couple others. Can you picture all these Chin Chinning around the clock! All these beautiful people have planted the Fantasy seed in us from a young age in many ways… so that would be a perfect company to celebrate our Fantasy dinner with them!
Who would be your dream collaboration be with, musically?
Umm, if we are allowed to aim high! Most likely the four of us agree that Coldplay is a name we dream about sharing the stage with or having any type of collaboration with.These lads have influenced, inspired and aspired us loads with their phenomenal bridging between rock and pop music for the last 20 plus years, while keeping it simple but extremely sophisticated with their dreamy sounds, colorful vibes, emotionally bright arrangements and indeed their nuclear energy on stage.Well! Chris, are you reading this!?
Will you guys be touring at all this/next year?
We are currently so excited about the near future as we are so fortunate to have a busy calendar for the rest of 2022 with the biggest highlight being The Football World Cup, where we have been invited to play before, during and after the biggest event in the world for a rotation of tens of thousands of people from around the world at multiple fan zones and festival taking place. In parallel, we are busy as well finalizing our bookings for spring and summer 2023, with several gigs starting to take shape in France, Spain, Germany, Ireland and the UK.
Listen to 'Fantasy' here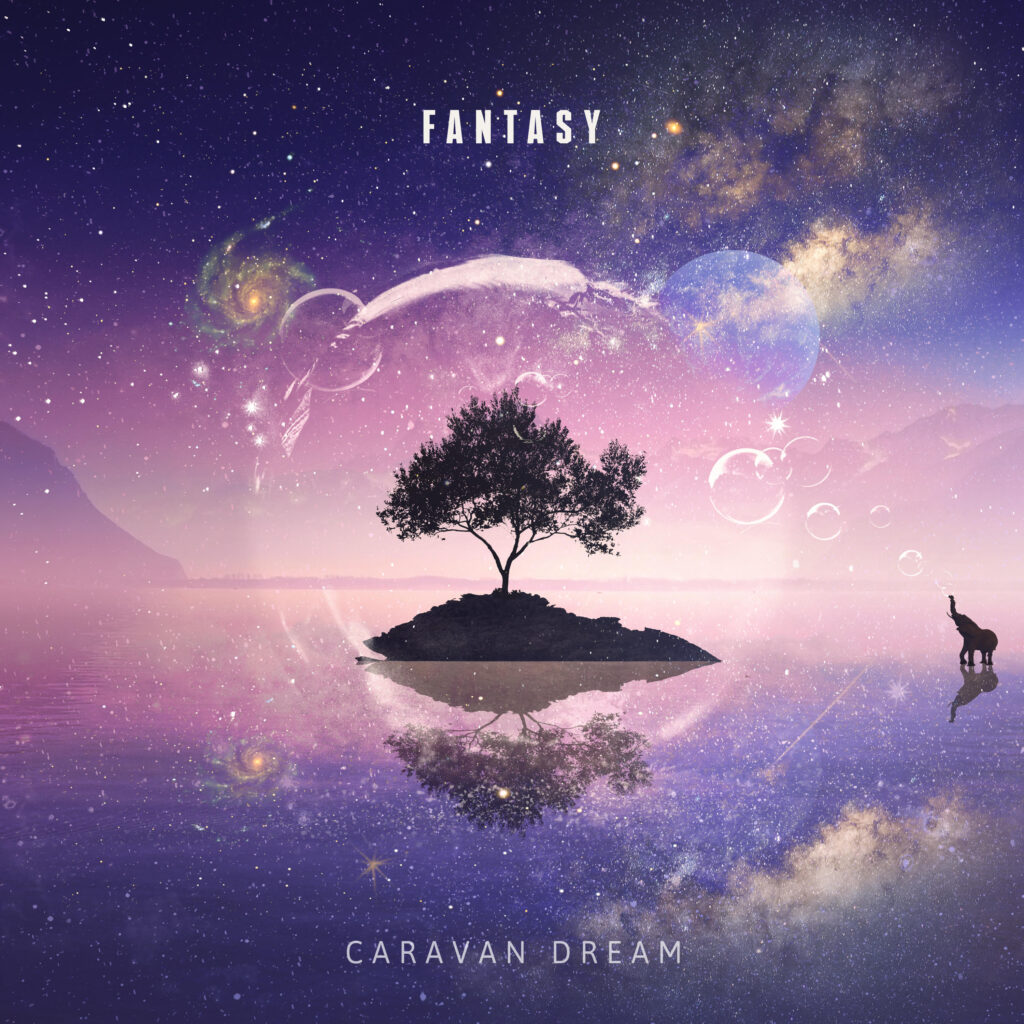 Check out more Entertainment Now music news, reviews and interviews here.