The Rotunda Theatre, 9 May 2023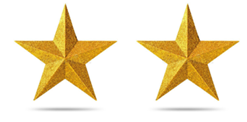 A raucous farcical telling of how three highly camp fellows – and an unfortunately underused duck – stage a deeply abridged version of Oscar Wilde's classic comedy of manners and quips, with moments of outrageous fun and others that didn't hit the mark quite so squarely.
The premise is straightforward: camp bitching and back-biting backstage throughout rehearsals, culminating in a fast-paced finale of the key points of 'The Importance Of Being Earnest', including a few classically renowned quotes from Wilde's well-known play. As such, by its very nature this is a series of scenes running together through the chronological narrative from pitch to performance. Some of it works, and some of it just doesn't hang within the framework it has been set out within.
It's a mash-mash and patchy show feeling uneven when the scene-joins show. There's a semi-pantomime vibe to the alternate proposal delivery rehearsals, rattled through with impressive choreography sadly thrown away with under-explained set-ups. But also a lot of fun in some parts as the three lean into their farce with catty swipes and fabulous physicality.
It's tricky when you've got a play and the cast are in effect playing drag caricatures – which the company of Out Cast Theatre are for the most part. Drag exchanges knowing looks with the audience, interacts a fair bit – there is no fourth wall and there's palpable danger in its absence. Theatre locks that fourth wall in to contain the story. Which is what this show does. Feeling like a caged wild and snarky thing in a marvellous Lady B outfit.
The Importance Of Being Earnest As Performed By Three F*cking Queens And A Duck
The Rotunda Theatre, 9 May 2023
Check out more Entertainment Now theatre news, reviews and interviews here.
Follow us on Instagram, Twitter and Facebook to keep updated with the latest news.