It is a flower, a scent, a symbol. The rose has been considered the ultimate embodiment of femininity and luxury since ancient times.
In 1913, Gertrude Stein epitomised its allure with the line: "Rose is a rose is a rose is a rose". Even today, its sweet fragrance continues to reign supreme in the perfume world today.
But what is the behind our fascination with the scented flower? This article traces the cultural history behind perfumery's most enduring notes.
The Origins of a Scent
The rose has a rich history. The Ancient Egyptians used rose oils and rose water in ritualistic and religious practices.
Whether used as an offering to the gods or as a formula for a love potion, the rose in figured as a powerful and compelling ingredient. It is said that Cleopatra filled her bedroom floor with rose petals a foot deep when seducing Mark Anthony. However, the first mention of the rose as symbol of love dates back to even earlier, to Asia 3000 BC.
In Ancient Greece, rose-scented cosmetics were common, with the flower becoming integral in their beauty rituals. And it was the Romans that introduced the concept of the cultivated rose to Europe, along with precursory versions of perfume. The reign of Nero saw roses being used to adorn banquet tables and the building of lavish rose gardens with rose water fountains.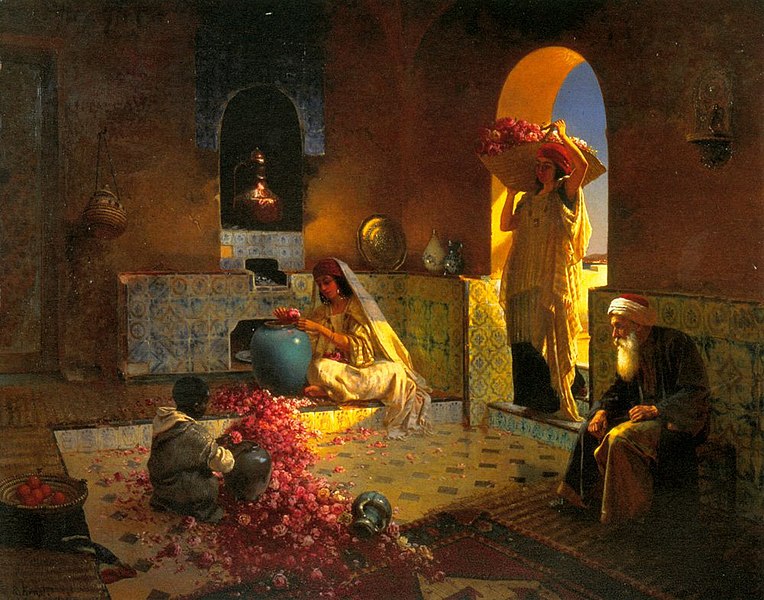 The use of rose oil and perfume has a long history dating back to the 10th century Orient. Image: Rudolf Ernst (1854 -1932), The Perfume Maker
For European nobility during the Middle Ages, rose-based fragrances were a mark of wealth and prestige. This sentiment would continue into the 20th and 21st centuries where rose scented perfumes became often synonymous with high-end brands.
The Flower of Femininity
According to early 20th century French photographer, Robert Demanchy: "(Rose) perfume is so much more than fashion. It's emotion and luxury, and it is also in some ways an expression of our collective longing."
As a rich and intoxicating fragrance, the velvety and ethereal essence of the rose flower has inspired a plethora of master perfumers in recent history. Some of the most iconic include:
Chanel N°5 (1921) – with essence of pink powdered rose, this timeless floral fragrance became an instant classic. It went on to inspire Trésor de Lancôme (1990) and Flower de Kenzo (2000).
Patou Joy (1929) – launched just one year prior to the financial crisis of 1930, this May rose and Grasses jasmine infused perfume was marketed as the most expensive in the world.
Chloé Eau de Parfum (2008) – this fragrance offers notes of rose mixed with a smooth sensual musk. Airy and flirtatious, Chloé's iconic feminine scent translates into the ideal companion for the free-spirited female consumer.
Guerlain Petite Robe Noire (2012) – this rose-based scent combines fruitiness, tenderness and passion.
Miss Dior (2021) – reformulated from the original 1947 Miss Dior perfume, Dior's 2021 edition is a rose fresh floral fragrance that offers complimentary traces of honey, lemon, and spices, communicating both romanticism and femininity.
The Rose of the Future
While most young people may consider this ultimate feminine note to be a bit…well, Grandma-ish – perfumers today are giving it a new lease of life. A modern twist on the classic floral may include the pairing of different types of rose to create an exhilarating scent, whether it be boozy, metallic, or mossy rose.
Other reimaginings are set to reflect an embrace of self-expression and the freedom to self-identify. No longer will the rose and its romantic aromas be exclusively tied to notions of femininity. Instead, what we can expect to see is a more genderless and experimental take on the classic rose perfume.
Check out more Entertainment Now lifestyle news, reviews and interviews here.