Multi-talented actor & horror queen Ayvianna Snow (LOLA, White Colour Black, Black Lake, Barun Rai And The House On The Cliff, Hollow, The Lockdown Hauntings) returns with a raft of hotly anticipated new films, including Wrath of Dracula, Punch and the award-winning How To Kill Monsters.
As Halloween approaches, Entertainment Now catches up with Ayvianna to chat all things horror…
Can you tell us a bit about your latest films?
I star as Velma in How to Kill Monsters. The film is as a love letter to the 80s and 90s horror movies the Director Stewart Sparke (Book of Monsters) grew up watching. Viewers can expect thrills, kills and laughs, as the sole survivor of a blood-drenched massacre teams up with a bunch of rookie cops and lawbreakers to defend a police station from an invasion of monsters from another dimension. With plenty of fake blood and guts, it scratches the itch of horror fans craving a throwback popcorn horror movie! The film recently won the Best Feature award at Dead Northern -which is a testament to the hard work of the whole cast and crew. I feel blessed to be part of such a great team.
In Wrath of Dracula I play Maria, the principal Bride of Dracula. Guided by Professor Van Helsing, Mina Harker (Hannaj Bang Bendz) embarks on a courageous quest to liberate her beloved husband, Jonathan, from the clutches of Castle Dracula. But Maria assists the Count in attempting to seduce Mina into joining them at Castle Dracula.
I also make a cameo appearance in Punch. The film tells the story of ayoung woman deciding to have one last night out in her seaside hometown. But local bogeyman Mr Punch is stalking the town – and the carnage soon escalates.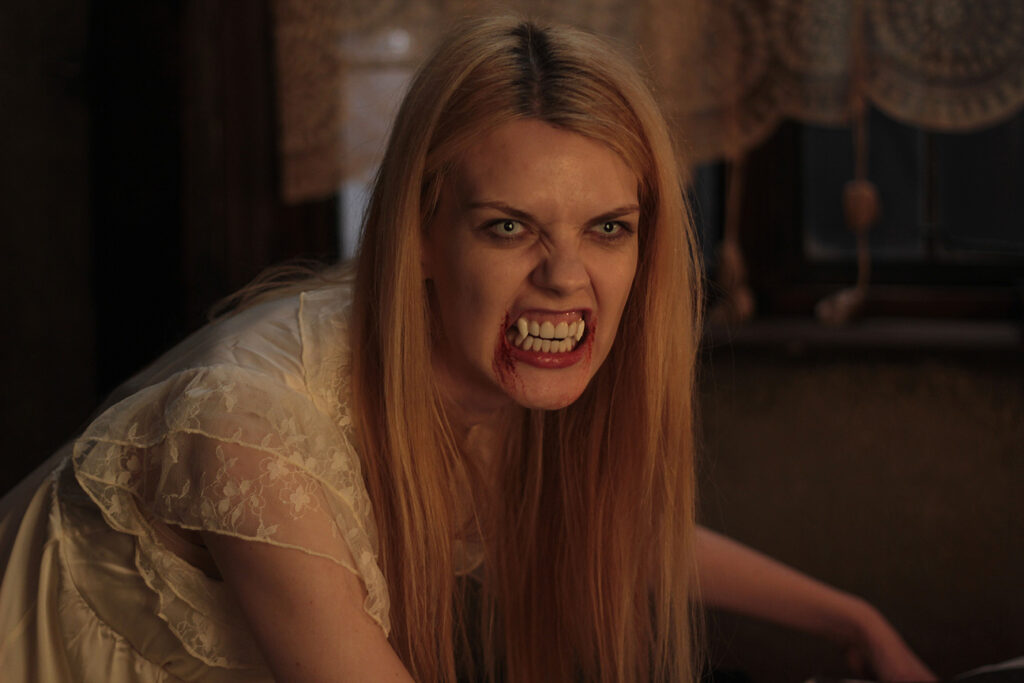 You live and work in London, one of the most haunted cities in the world – do you have any favourite 'haunted hang-outs' or encounter locations on your travels in the city that inspire you?
I adore Highgate Cemetery for its beautiful architecture; it is also one of the most haunted cemeteries in the world! The further back you go into the cemetery, the older the graves are; the oldest graves date back to 1839. I would love to do a film about the London Necropolis Railway; it was opened at Waterloo in 1854 and used as a means of transporting London's dead out to a cemetery in Surrey. I love that idea of a railway that only carries the dead!
With Halloween fast approaching – how will you celebrate?
I might join a gathering of my local coven at WitchFest in South London and celebrate together; they hold a fascinating range of workshops on Witchcraft, Wiccan, Tarot, Pagan, Occult and Mythological subjects, as well as a bonfire at night.

Are there any new horror films you are looking forward to watching?
I can't wait to see "A Haunting in Venice". I am a long-time Branagh fan, and I love Agatha Christie, so it's perfect for me!

What new projects do you have coming up next?
I appear in Sean Cronin's American road vampire movie "Bogieville", Michael Fausti's "Burnt Flowers" and Jonathan Zaurin's "Derelict" in 2024!
Follow Ayvianna on Instagram
Wrath of Dracula is Out Now & available from Amazon
Check out more Entertainment Now movie news, reviews and interviews here.