Lindos is a very special place – a small and well-preserved village on the island of Rhodes. Approximately 50 minutes from the airport in a taxi, it is a must for all travellers and holiday makers. It is also a favourite haunt of the uber famous…. Brad Pit, Angelina Jolie and Anthony Hopkins visited the village in recent years, as well as brit favourites Will Young and Lorraine Chase and even Lewis Capaldi was also spotted here this last year.
Not nearly as expensive as Mykonos or Santorini – Lindos is as beautiful but less spoilt and is a much better option in my opinion, on an island that has much to offer.
The Hidden Gems of Amazing Lindos Village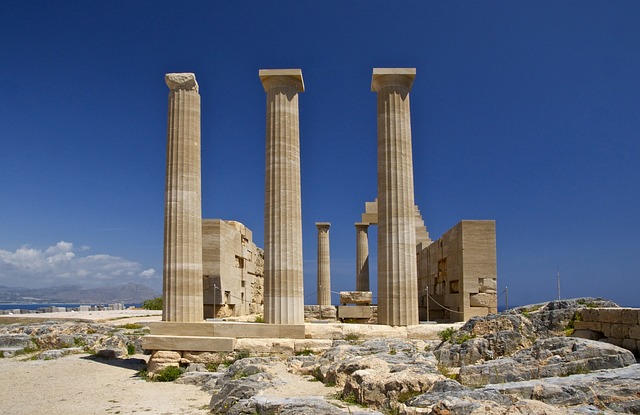 The village is a weave of small white streets and it's easy to get lost. You also never know what you might find around the next corner, and locals welcome you with open arms. There are some beautiful clothes and gift shops, and a huge amount of fantastic restaurants and cafes to choose from too.
St Paul's Bay Church is a great place to get married with a beautiful view of the famous bay.
The must-see sight, however, in the village is the Acropolis which sits over the entire village. Entrance is €12 and worth it just for the view. Another site is the old amphitheatre which is free to view.
Once you have been there you never want to leave and when you do, you have to come back!
FLIGHTS: Easy Jet, Tui, Ryan Air
BEST TIME TO GO: May-July, Sept–October
Accomodation
There are very few hotels in the actual village and most accommodation are villas and studios. I would highly recommend for the whole experience though staying in the heart of the village. This, for me, is a must.
Villas
Villa Angelique
Run by husband-and-wife Petros and Raffaella, this is a rustic and beautifully decorated traditional spacious villa in the heart of the village, with a very close neighbour being Pink Floyd's David Gilmour. Right below the Acropolis and next to the old Amphitheatre, it's the perfect location to explore the village on foot.
The villa can accommodate eight people with two bathrooms plus an outside shower and a huge courtyard with lots of seating with trees and lanterns. This is a very special place. Five minutes' walk from St Paul's Bay Beach. Good value for money.
Contact: Raffaella Pierri [email protected] WhatsApp: +30 694 2816766
Casa Lindos
A family run traditional home conversion with roof terrace in the centre of the village, looked after by owner Apostolis and long-time friend Sotiris who also looks after a number of other villas and studios. They provide an incredible and friendly service.
Lindos Allure Villa
Family run by George Kouras and beautifully designed by his wife, this modern converted two-bedroom split level home boasts an incredible roof terrace with hot tub. All mod cons.
Hotel
AF Lindia
A boutique hotel close to main beach but on the way to Scala Beach – very expensive, but stylish. The restaurant however was below par sadly last year so hopefully this year it will be better!
Restaurants
Kalypso
A traditional family run restaurant – an original Captain's House and owned by the family for decades – with husband Ewriypidis in charge of the kitchen (he is on the board of Greek chefs in the mainland and second in command in Rhodes and can often be seen on TV) and his charismatic and hilarious wife Kiki taking care of the customers front of house this is a must. 
The family is completed in season by daughter Mary and waiter Elvis (yes his real name!).  Amazing views from the rooftop of the Acropolis. Favourite dishes: Feta Kalypso, chicken souvlaki and pork chops though honestly everything is amazing. Exceptional house rose wine. Very reasonable prices. So good you keep going back as once is not enough as easily the best traditional Greek in the village!
Best to book to avoid disappointment and ask for the rooftop terrace though in the autumn the downstairs is really gorgeous too.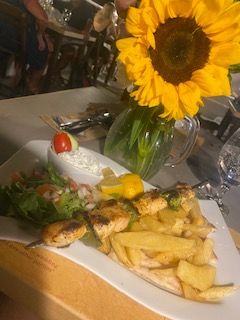 Favourite dishes: Feta Kalypso, chicken souvlaki and pork chops, though honestly everything is amazing. Exceptional house rose wine. Very reasonable prices. So good you keep going back as once is not enough. It is easily the best traditional Greek in the village!
Best to book to avoid disappointment and ask for the rooftop terrace, though in the autumn the downstairs is really gorgeous too.
Ambrosia
Owned by George and his wife, Litsa who equally designed the stunning menu. Litsa is in the kitchen and charismatic George is front of house with his son Dimitris. The restaurant is one of the only without a roof terrace but this is part of the charm – stepping into an oasis of quiet from the bustling streets of the village door shut this romantic and beautifully designed room that was originally the family home. It also boasts George's other passion – his incredible sculptures.
Favourites: Mixed leaf salad with figs and cheese – so fresh! Catch of the day served at the table, mushroom risotto. Chocolate fondant. Large wine list. High End but worth it. A real treat.
Contact: +30 2244 031804
Caeser's Meze
Fine dining family-owned restaurant. Incredible food and service.
Favourites: homemade breads with dips, deconstructed moussaka and their bird and pork dishes. Highly recommended. Pricey but more than worth it for a special occasion.
Alex's
This traditional family run Greek restaurant is sister to their restaurant on Pallas Beach and ran but Costa's brother Philip.  The staff are amazing – with waiters that include the lovely Theo and charasmatic Christos always ready to serve with a smile.  I had the most delicious baked feta dish followed by a piece of sea bream.  Good value for money.  Open all day for lunch and dinner.
Contact: +30 2244 031572
Brocolino
Owned and run by Italian Elia, who also is the chef, Brocolino offers a brilliant Italian alternative to the local food. Fantastic pasta, meat and fish dishes with great wine options.
Favourites: Beef Ragu, Steaks, Meat and cheese plate with honey and nuts. Great also for vegetarians. Mid to High end.
Must book in advance as its very popular.
Contact: +30 2244 031688
Lassau
Small traditional Greek restaurant – great service with a smile and delicious dishes to match. Recommended. Mid-price.
Contact: +30 2244 033090
Lunch
Scala Beach (Pallas Beach)
Alex's Beach Restaurant
Traditional family run Greek restaurant on the beachfront headed by Kostas and his loyal staff – special shout out to George. The Summer salad or fresh seabass is highly recommended. Really good coffee too. Great waiter service is also available on the beach to their sunbeds served by the charismatic Alberto (the sunbeds this year have increased to €10 but they are brand new and have larger tables.) Value for money.
Contact: +30 2244 031473
The Yacht Club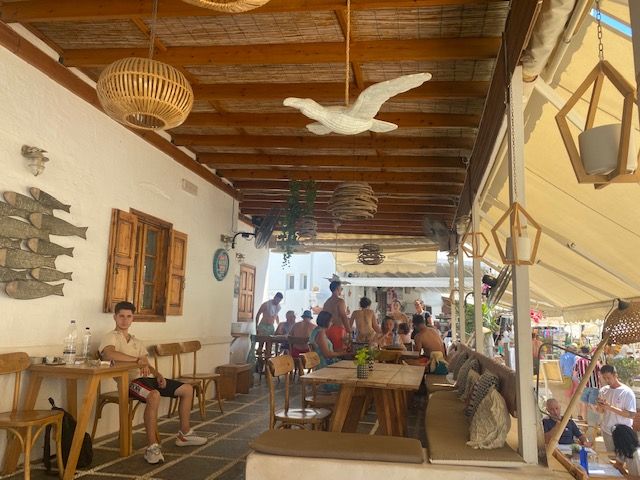 Run by George – who is also the chef – this is a mid-scale beach front restaurant. Great design and delicious food. Seabass is filleted to perfection. Mid-price but highly recommended.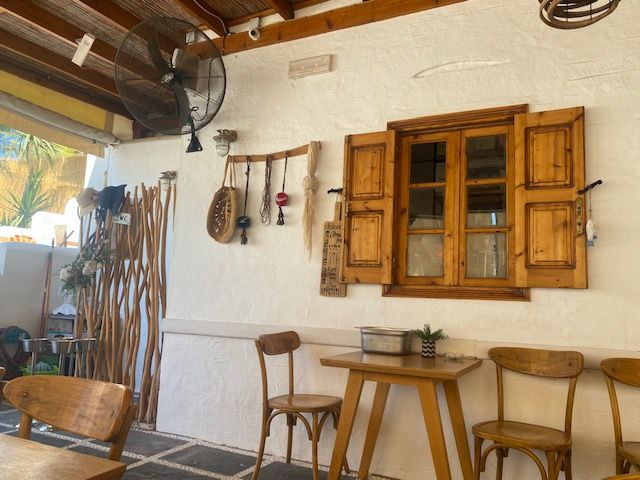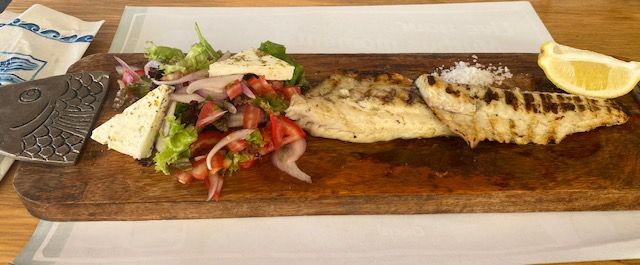 Contact: +30 2244 032426
Main Beach
Almyra
Newly opened, this modern Greek place puts a new spin on their food.
Recommended: Greek salad
High end.
Contact: +30 690 913 9327
Brunch
Melia Café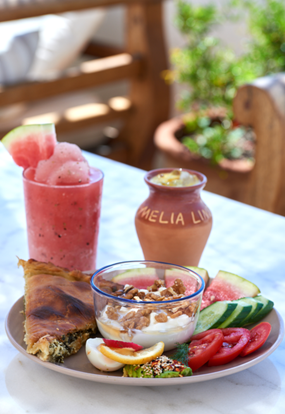 A family run modern café.
Favourite dishes: feta and avocado chilli panini, lime cheesecake.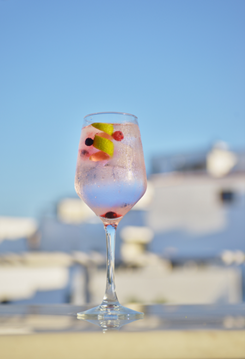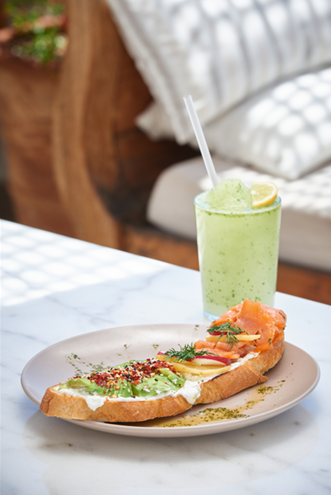 Great coffee! Huge roof terrace with views of the whole village.
Contact: +30 2244 032433
Ginger
On the way to Pallas beach, Ginger boasts fresh juices and sandwiches with a roof terrace.
Contact: +30 697 200 8086
Cocktail Bar
The Crazy Moon
Handcrafted cocktail bar run by Markos.
Favourite cocktail: the Palomo made with fresh pink grapefruit juice.
Great music DJ'd by brother Nikos from 90's Britpop to alternative, disco and chart music. Gorgeous courtyard with off the beaten track location. A real find.
Bars
Yannis Bar
On the main drag – this well-designed bar is the best place to people watch!
Contact: +30 2244 031245
Wine Shop & Tasting
Kava Kantina
Open a year now, this wine shop offers local wine tastings with meat and cheese platters which were delicious, and figs wrapped in prosciutto.  I recommended the house rose wine – far too drinkable! Also located on a great corner to people watch. Really amazing and something different in the village.
Contact: +30 699 539 6447
Activities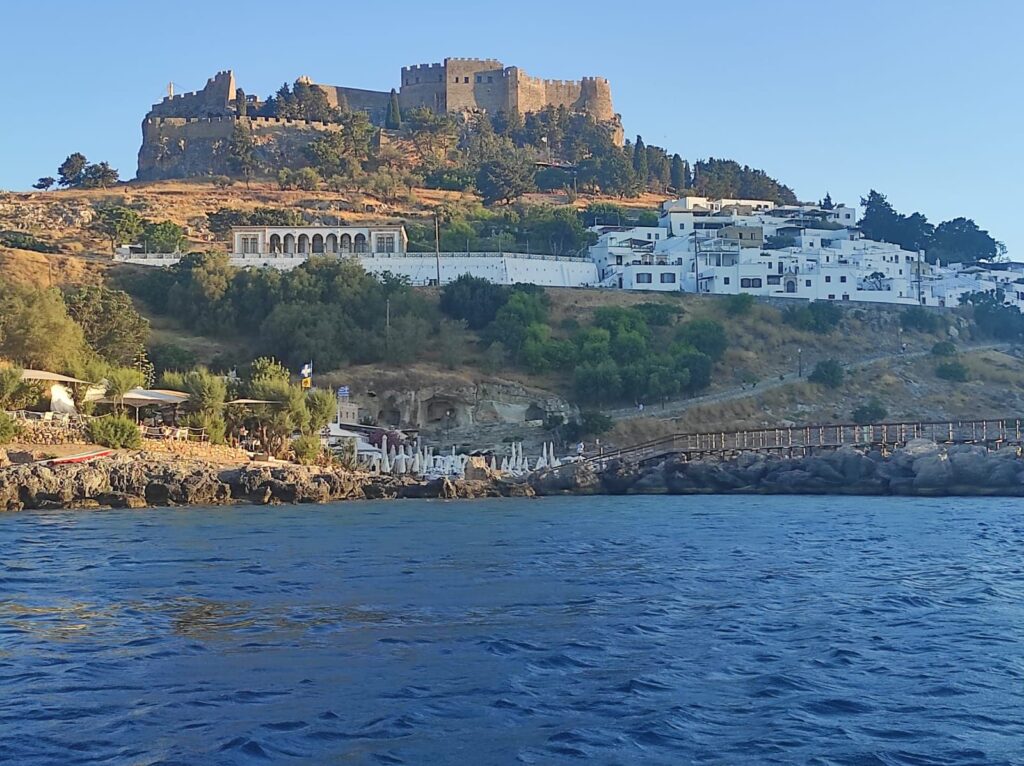 Discover Lindos Boat Trip
The boat takes you up the coast to swim in the crystal-clear waters of Navarone Bay passing Lion Rock and 'Pink Floyd' bar then to Scala Beach and in a small cave. €20 for one hour and well worth it.
Contact: +30 694 2816766
Shops
Kori
The best gift shop by far is Kori run by married couple Kostas and Youta. It boasts modern Greece jewellery, gifts, bags, candles, perfumes and more! Unique finds carefully sourced.
Kouros Jewellery
High end family run jewellery shop with very interesting pieces.
Lindos Spa Boutique
In the heart of the village and on the way to Scala or Pallas Beach as it is known is where this very special clothes and accessories shop is located. Lindos Spa Boutique is run by the wonderful Nikki who has a background working for Bloomingdales and then several designers including Christian Dior and Prada. Her speciality here is in Greek designers, and she has incredible knowledge and impeccable taste. The array of clothes, handbags, shoes and accessories are mouth-watering. Though high end there are many affordable pieces so worth going for anyone who wants something extra special and service with a smile.
Pavlos & Pelagia Gift Shop
This gorgeous gift shop has everything – from stylish hats and bags to gorgeous jewellery and clothes and run by a lovely Greek husband and wife team. Definitely worth a visit.
Contact: +302244031888
Supermarkets
Dimitris Supermarket
On the main stretch delivers very nice fruit and veg and a good selection of everything. Family run and they are happy to deliver.
Contact: + 30 2244 031236
ABC
On the opposite side of the village on the way to the Acropolis and near to Manolis restaurant is this supermarket. Usually the cheapest of the lot but be careful on labels as sometimes it's not the same as on the produce!  But they are very helpful. Also delivers.
Tip for both supermarkets: Go for the 6-pack of 1.5 litres at €2,20. That's the cheapest in the village.
Just Outside of Lindos Village (but still the region of Lindos!)
Milos Greek Family Tavern (restaurant)
Based in Kallathos – the village next door to Lindos, a 10-minute drive is a fantastic taverna, family run. I had the most delicious meal and it was great value for money too.
Contact: + 30 2244 032251
Casers Gardens Hotel & Spa
Just outside the village across the busy main road is this boutique hotel and spa. Go for the day, have lunch and spa treatments, and relax by the pool. High End.
Debbie's Massages
The lovely Brit Debbie is based in Pilona or can be mobile. She has magic hands and does a great massage and reflexology.
Contact: 00447561800412
Marias Nails:
Based in Pilona, the best nail tech I have ever had. My nails last a month at a time!
Contact: +30 694 4745262
NIGAL Spa Retreat
Hair/make Up/grooming for men and women. I can highly recommend NIGAL Spa Retreat in the next-door village of Pefkos – on a par with any top UK hair salon. Nick runs a tight ship with attention to detail along with his angel team of stylists. Their seamless work is truly fantastic. Also offers massages and nail bar. Highly recommended.
Contact: [email protected] +302244032088
Further Afield in Rhodes
Tour Guide for Day Trips & Airport Transfers
GREtour Rhodes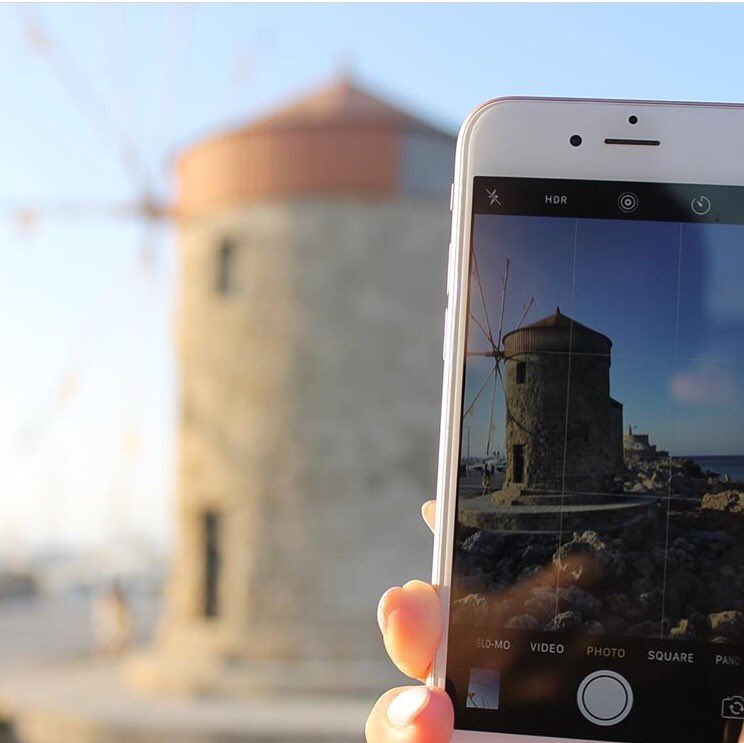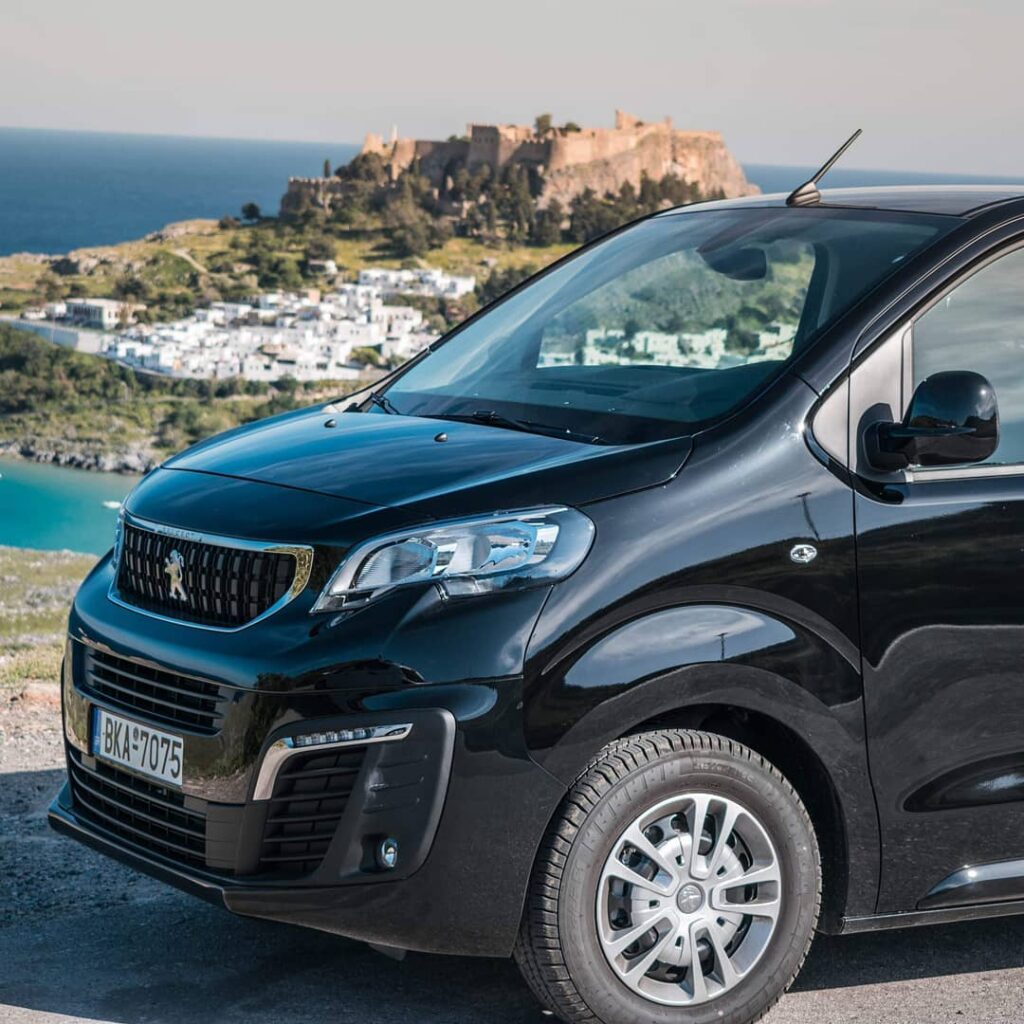 This independent travel company, run by the extremely charming George, provides amazing daytrips around the island including bespoke offerings. I highly recommend wine tasting in Embona village, a visit to the old, abandoned Italian village of Eleousa and to see the incredible views from Monolithis Castle. They also offer reasonably priced pre-booked airport taxis.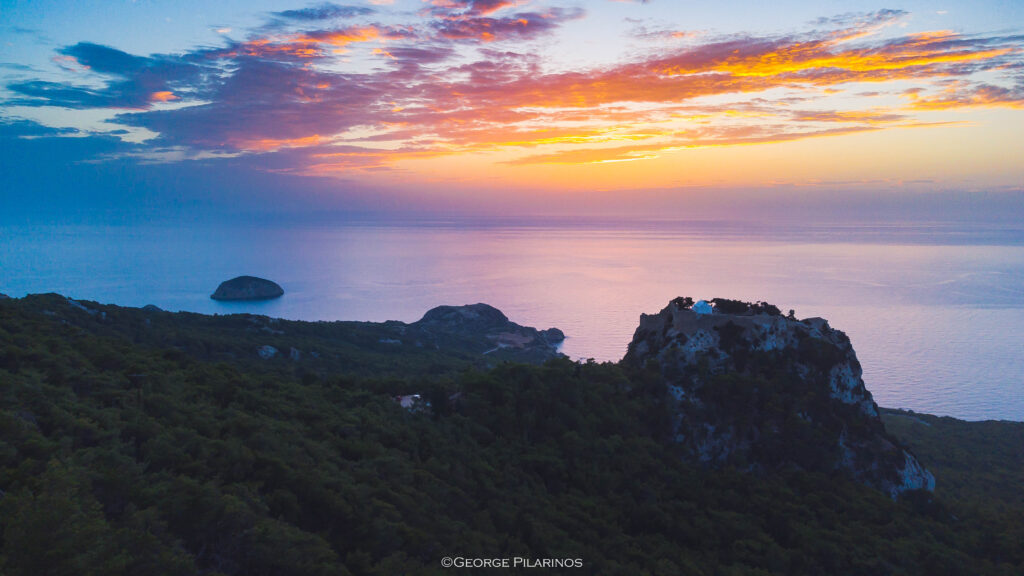 Contact: George Pilarinos +30 6971953956. [email protected]
Restaurants
Paraga
In the middle of nowhere inland in the hills of Rhodes approx. 25 minutes by car from Lindos is this incredible family run taverna.
Favourite dishes: Mystic cheese, goat.
Simply incredible. Value for money.
Menu: paraga-apollona.gr
Contact: +30 2246 091247
Sole Guiguaro
A former winner of Greek MasterChef, this Italian restaurant is about 35 minutes South by car from Lindos village but worth the journey.
Lachania 85109, Greece
Contact: +30 2244 046262
Beaches
Glystra Beach – or golden sands beach.
About 15 minutes North from the village by car. Take a picnic! Sunbeds €7.50 including a safety box.
Tsampika Beach
Huge beach with plenty of room and comfortable sunbeds, approx. 20 minutes south of the village. Plenty of modern eateries and an outside waterpark with sunbeds.
Activities
The Water Park
Based in Falaraki and in my opinion the only reason to go to this tacky area of the island. This is a fun day out for all the family. Lots of rides!
Travel Tips
CASH IS KING: you can get up to 15% discount if you pay with cash pretty much anywhere from shops to restaurants – just ask!
BEST TIME TO GO: May to October, August I would avoid as very hot and extremely busy!
GIRLS: wear wedges not stilettos! Too many uneven streets.
PREBOOK: your airport taxi (€50-75) and in high season all the restaurants to avoid disappointment.
AVOID:
The Yellow submarine – an eyesore on Scala Beach
Sitting on St Paul's Bar Beach or The Pink Beach – €50 per sunbed – a total rip off and not worth it and overcrowded.
Restaurants that have doormen trying to get you to come in – never a good sign!
Check out more Entertainment Now lifestyle news, reviews and interviews here.