The Harry Potter Photo exhibition includes hundreds of behind the scenes photos from the making of Harry Potter courtesy of Warner Bros. Additionally there will also be enchanting photos from behind the scenes of Fantastic Beasts as well as back stage photos from the west end play Harry Potter and the Cursed Child.
Beyond the many photos that will be on display at the exhibition there will also be interactive photo opportunities to make all your Harry Potter fantasies come true. There will be green screens and wizarding world costumes to make the muggle in you invisible. You can ride a broomstick over London just like the cast did during filming! Climb onto a broomstick and see how Harry and his friends were made to fly. Or if you would prefer a more Muggle-friendly mode of transport you can step inside a London phone box and pose for a photo transporting yourself into the Ministry of Magic!
The photos will be available for purchase in many different package options so you can go on to use them for whatever you dream of.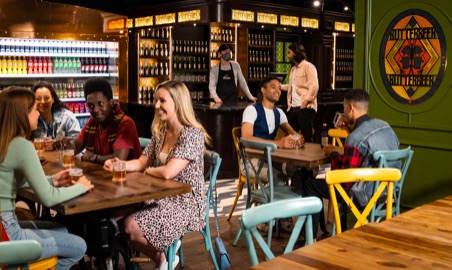 Afterwards you can indulge yourself at London's only bottled butter beer bar or get a bottle of the non-alcoholic beverage to go at the gift shop stocked with many magical artifacts.
The Harry Potter exhibition is on July 12 and tickets are on sale for £20 and £14 for children. Grab your tickets here.
Check more Entertainment Now lifestyle news and reviews here.