INTERACT is the brainchild of actor/director/producer Scott Vickers and mindset expert Nicola Vickers who, like many during the pandemic, pivoted to exploit their existing skillsets in a different way. INTERACT offers acting coaching taught by experienced industry professionals who understand the needs of casting directors and film /TV producers and can equip actors with the skills they need to land more roles and be at their best in the audition room and on set. The team aims to offer the kind of training they wish had been available to them when they started their own careers.
Scott started out in musical theatre, appearing in Chicago on the West End for three years before successfully transitioning into straight acting. He was in several TV shows including a lead role on the BBC's River City for four years. He then moved over to the other side of the camera and directing, including writing and directing the feature film MATRIARCH which was picked up by Lionsgate and had a theatrical release; following the success of MATRIARCH he signed with talent management agency 3 Arts Entertainment. He has also worked in commercial film and TV, and sees actors audition continuously.
Scott and his team are unique in bringing groundbreaking mindset training into their coaching; his wife, Nicola, is a world renowned mindset coach. More commonly used in elite sports and the corporate world, Scott believes the right mindset is crucial, and is something actors must work on if they want to be successful. Mindset coaching and training can help actors break free of the limitations of their minds, and liberate their performances so that they can be at their best when it really counts.
'Part of the reason I launched INTERACT was because I see so many ultra talented actors miss out on jobs due to mindset and often a lack of understanding of what directors and casting directors expect in an audition; there is a specific skill and approach to auditioning. Although there is lots of support and classes out there a lot of it can be ineffective in actually helping actors land roles and move forward in their careers'.

-Scott Vickers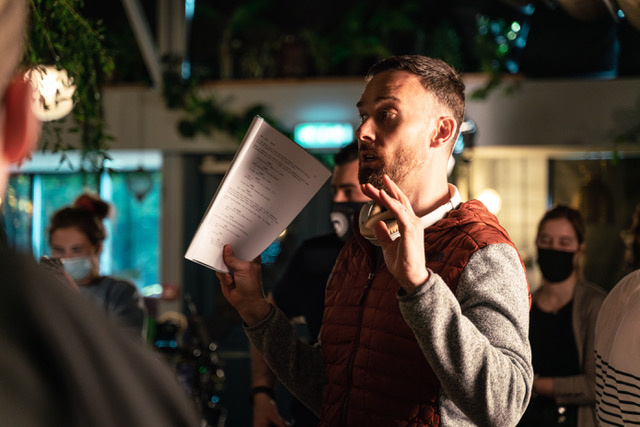 Check out the full Q&A with Scott Vickers below
Q: We are halfway through 2021, how has this year been for you so far?
A: It's been crazy busy. A lot of development on scripts and projects, and I launched a brand new coaching and training business with my wife called INTERACT which I'm really excited about. We combine all my acting and directing experience in TV and FiIm with my wife's expertise in Mindset. We train and coach actors and creatives. We've had incredible success already and it's getting very busy.
Q: How would you describe yourself in three words?
A: Determined. Creative. Impatient.
Q: How did you get into your current career?
A: I did performing arts from a young age and began my professional career in theatre as an actor / performer. When I started doing screen acting I realised I wanted to direct and write so I began taking classes in filmmaking and writing and slowly moved to the other side of the camera.
Q: How would you describe your work?
A: Entertaining, moving, thought provoking. I always aim to balance art with commerciality and structure.
Q: What do you want people to take away from it?
A: I want people to feel they've been on a journey and escaped their own world for a time. I want the audience to be fully invested in the characters.
Q: What inspires you and who are your influences?
A: Very early on it was Robert Rodriguez who influenced me with his film El Mariachi and his book A Rebel Without A Crew, he inspired me to find a way to make films even when there's no money. Artistically it was Fincher (Fight Club), Coen Brothers (No Country for Old Men), Tarantino (Pulp Fiction).
Q: What advice would you give to your younger self?
A: Go and learn about Mindset, nothing is more important, take classes / courses, whatever, just learn to understand the mind and how it works! Develop relationships with likeminded creatives – you can't do it all on your own!
Q: What's next for you? What are you most excited for?
A: I'm producing, and directing a comedy TV pilot called #ACTORS. Comedy is new territory for me, but I'm loving it! I'm also working with DoP Ian Livesy, a fellow Northerner (Northern England) – we've got a few projects in development including Catalyst an apocalyptic action thriller about a contract killer (Rob) who finds himself in a bunker with his estranged father's family: doctors and scientists who have been preparing for this eventuality. I've also written a dance movie When The Music Stops that focuses on the commercial dancers' experience. I've collaborated on this with my good friend Chris Manoe who owns the UK's biggest commercial dance agency – we worked together when I was an actor / performer so we pull on a lot of our own experiences and those of the dancers in our community – it's quite a provocative unnearthing of what goes on behind the scenes of the commercial dance scene. We're ready to get this out and get speaking to people about it.
Check out more about Scott Vickers work with INTERACT at their website and socials
Check out more Entertainment Now Movie news, reviews and interviews here.