Perched on a corner of The Shore, overlooking Edinburgh's Water of Leith, Heron restaurant launched from lockdown in July. Although the restaurant is a fledgling, the staff are a well-seasoned bunch. From the kitchen crew to the front of house, the CVs read like a hit list of Scotland's more notable restaurants with honourable mentions going to Restaurant Andrew Fairlie, Café St Honoré, Number One and Isle of Eriska.

While the restaurant had only been open a couple of months when we visited, all that experience shone through in both the smooth, friendly service and the assured cooking. It also showed in an à la carte menu which is confident enough to offer just four starters, four main courses and three desserts. To be fair, that choice is padded out with an equally concise range of snacks to graze on while deciding what to order.

We kicked off by sharing a generously sized, snack portion of whipped crab butter which we slathered on thick slabs of warm sourdough from the local Company bakery. The butter was airy, almost foamy but richly flavoured with brown crab meat and a hint of citrus. Simple yet satisfying, it would have made a decent supper on its own.
Rather less simple was a stand-out starter of veal sweetbreads, girolles and celeriac purée with veal jus. The sweetbreads were creamy, a contrast with the soft, leathery squelch of the fungi. The celeriac was intense, velvety and earthy. The jus bound it all together to make a stunning celebration of autumn.

On the other side of the table, a starter of 'lobster claw, potato, saffron, parsley' delivered more than its spartan title. The pink and perky claw sat in a gazpacho-like saffron and tomato sauce and was topped with a thatch of baby salad leaves and nasturtium petals. The crushed potato added a little heft to the dish. If the sweetbread starter promised autumn, then this pretty dish was a colourful reminder that we are enjoying a late summer.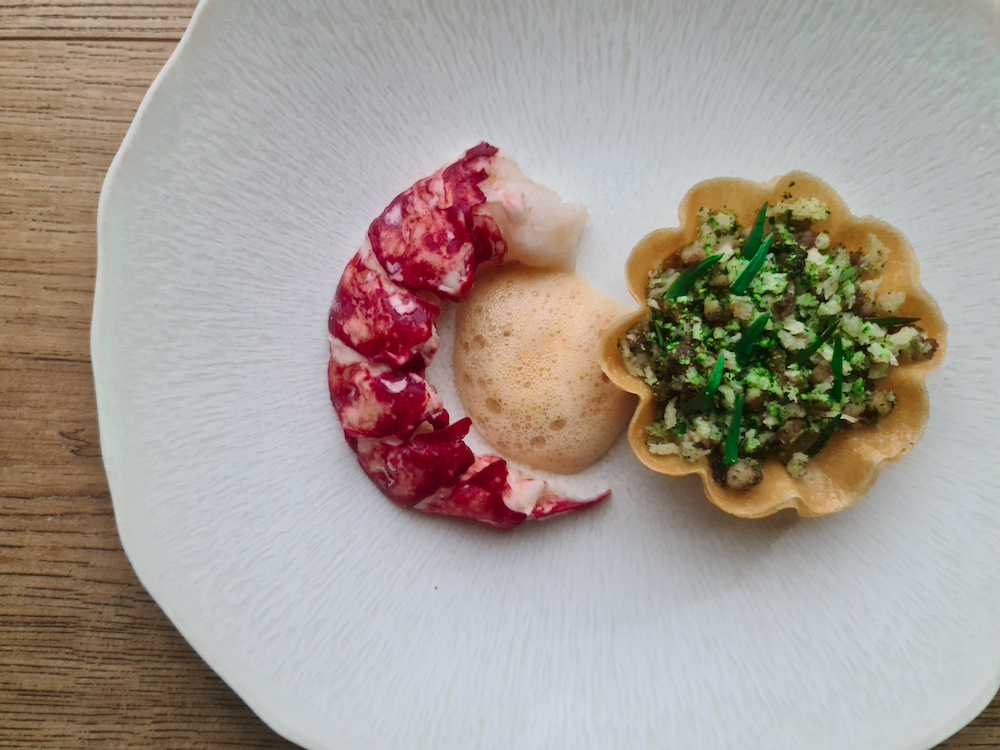 Autumn returned with a main course of plump, tender partridge breast stuffed with a melting streak of foie gras. A warm pumpkin purée kept the seasonal theme going. A brioche bun studded with caramelised onions and filled with parfait seemed like a mis-step though. Served at room temperature, it felt like a rogue element that had snuck onto the plate from another dish. Great partridge though.

The meal was firmly back on track with a plate of cod, sea herbs, clams and lemongrass. The cod was a tower of gleaming, white, flaky flesh with a golden crust. A tangle of soft beetroot tops, samphire and sea radish provided a salty twang while the lemongrass was a subtle background note.

Desserts were a slice of 22 month-aged Comté served with a dainty tart filled with prunes and a cheesy emulsion plus a damson cheesecake and damson sorbet. The cheese was gloriously, intensely nutty while the prunes gave it a fruity richness. Bracingly sour, the sorbet was an astringent foil to the thick, sweet and creamy cheesecake.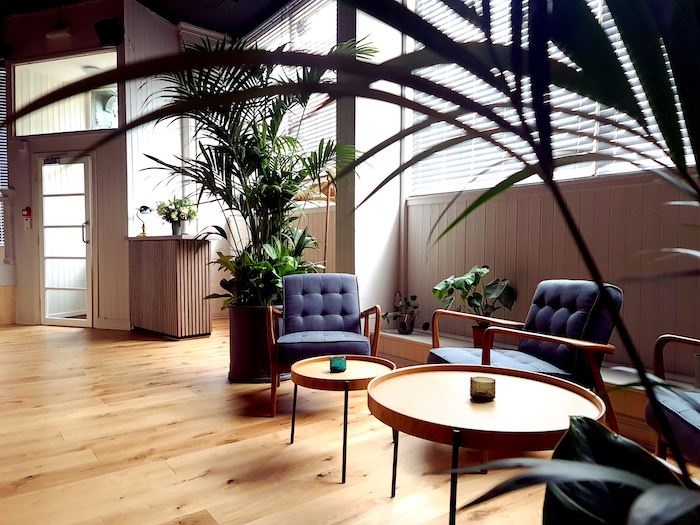 I will grumble about the rather harsh lighting. Also, the stripped-back interior, wooden floors and cloth-less tables mean that the rumble of happy conversation can sometimes seem over amplified. There is a point where chic minimalism tips over into works canteen. Apparently, plans are afoot to sort out the lighting and it would not take much to soften the echoes bouncing off the woodwork.

Grousing aside, Heron is gliding very much in the right direction. And, if this isn't one avian allusion too many, then lots of Leithers, as well as customers from further afield, will be glad that the team have decided to build their nest on The Shore.
Heron Details
87-91a Henderson Street, Leith, Edinburgh EH6 6ED Tel: 0131 554-1242
https://www.heron.scot/

The bill
Sourdough and crab butter £5
Sweetbread starter £15
Lobster starter £13
Partridge main £27
Cod main £24
Comté cheese £9
Cheesecake £9
Check out more Entertainment Now lifestyle news, reviews and interviews here.