Jess Chalker is an Australian-born songwriter and artist living in London UK. Musically, she hails from humble roots as one of YouTube's first ever viral artists (with over 1.5m views on her self-penned songs.) She went on to front Australian new-wave duo, We Are The Brave, whose grassroots hits 'Your Ghost' and 'Sparrow' achieved close to a million streams across YouTube, Soundcloud and Spotify. She is now embarking on a bold new solo career and releases her emotive, self-reflective debut full-length album, "Hemispheres", released on 5th November 2021 via her own imprint 528 Records. The album is supported by the Australian Government through Australia Council for the Arts and is available to stream on Spotify or you can get the album here.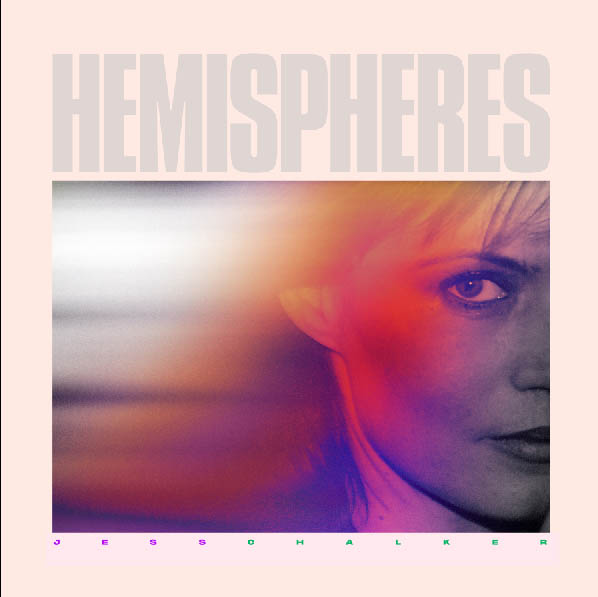 "Hemispheres", was completed under the weight of the pandemic, as Chalker dealt with the loss of her day job, being so far away from family and undergoing heart-breaking health challenges at the same time. Like many others, she found herself spiralling, and turned to music to find the creative outlet she needed.
"When the pandemic hit, like everyone else, it turned my world upside down. I was one of many people globally who lost their jobs, but the silver lining was that for the first time in years, it gave me a chance to stop and breathe."

– Jess Chalker
Jess subsequently poured herself into being wholly creative again and it wasn't long before she was collaborating with friends across Sydney, Los Angeles and London to finish the album. "Hemispheres" was executive produced by Jess herself, along with co-producers/co-writers Dan Long (Local Natives, Pavement), Grammy-winner Rich Jacques, Josh Humphreys (M83) and newcomer, Ox Why across Sydney, LA and London. It was largely mixed by LA's Billy Centenaro (Sara Bareilles, Lukas Nelson) and mastered by John Davis (The Killers, Lana del Rey).
In the process of this she also found a much longed-for freedom too. She says: "Releasing this album is terrifying and thrilling to me. I grew up in a religion that discouraged us from pursuing career success, where women weren't allowed on stage to address an audience directly. I think it's why I've always tried to avoid the spotlight but, after the year we've all had, my perspective on things have changed quite a lot. I'm not wasting any more time doubting myself."
Check out the full Q&A with Jess below!
Hey there Jess, how are you?
Hey, I'm doing great, thanks for asking.
We are almost three quarters of the way through 2021, how has this year been for you so far?
Probably similar to most people, getting used to this weird new-normal. Less travel and live shows which is a bummer but thankfully that's changing. I've also done lots of songwriting sessions over Zoom instead of actually being in the studio, and that's been interesting – the dynamics are different, it's way less tactile. I feel like I've 'hermitted' for a lot of 2021 actually. Hopefully 2022 is a lot more social.
How did you get into music?
My family owned an instruments store in Sydney, Australia (where I'm from originally) that is fairly well known, called The Guitar Factory. Music /musicians were always around. I did piano lessons for years as a kid, but started posting original songs to YouTube when I'd just started at uni. I'd never really sang in front of anyone so I think outing myself that way legitimately surprised most people I knew. There was absolutely no agenda behind it whatsoever, except to see what feedback I got from strangers. Working in music was never a plan, but it all kind of all began from there.
How would you describe your work?
I'd say it's modern new-wave, with a bittersweetness to it and light and shade that hopefully makes people feel good.
Which of your songs is the most meaningful to you? And why?
My favourite song on the record is probably West Hollywood; I was listening to a lot of Dire Straits and Fleetwood Mac while writing it. It's the most personal song to me, and sounds like the tug-of-war of emotions I was feeling at the time I wrote it, being so far away from home. There's nothing obscure about the lyrics, and listening to it feels like a snapshot of my life at that time.
What do you want people to take away from your work?
I don't really mind what people take away from it, I guess I'm just hopeful the music crosses paths with them in a positive moment, and that it can hold them there for a while if they need it to.
What inspires you and who are your influences?
David Bowie, Prince, The Beatles, Stevie Nicks, Kate Bush, Paul Simon and Joni Mitchell are probably my biggest influences.
What advice would you give to your younger self?
You aren't young forever! Squeeze out all the goodness while you can and use it to your advantage.
What's next for you?
I will be playing an album launch in London early 2021, watch this space.
What are you most excited for?
Putting up the Christmas tree! Ha, I don't know, maybe getting a dog? I just signed to an app that lets me walk other people's dogs in the neighbourhood, I think that's gonna have to suffice for the minute.
Creatively, I'm looking forward to entering a new creative phase, also getting stuck into some of the collaborations I have lined up in the new year.
Learn more about Jess Chalker and stay up to date with her work on her website and socials!
Check out more Entertainment Now music news, reviews and interviews here.