Based on her Femmes of Color live comedy night, Kemah Bob is launching a new podcast produced by The Guilty Feminist's team.
FOC stands for Femmes of Color, but the podcast will celebrate all perspectives of women – non-binary, gender non-conforming and transmasculine comedians of colour. It will be released weekly from 12th July.
FOC IT UP! will feature 36 fierce and fabulous comedians and will involve performances, discussions and games with the audience. Beginning this week, the podcast will be recorded in London with a live audience. Kemah's many guests will include Taskmaster's Desiree Burch and Sophie Duker, award-winning Shazia Mirza and Ninia Benjamin from the 3 Non-Blondes.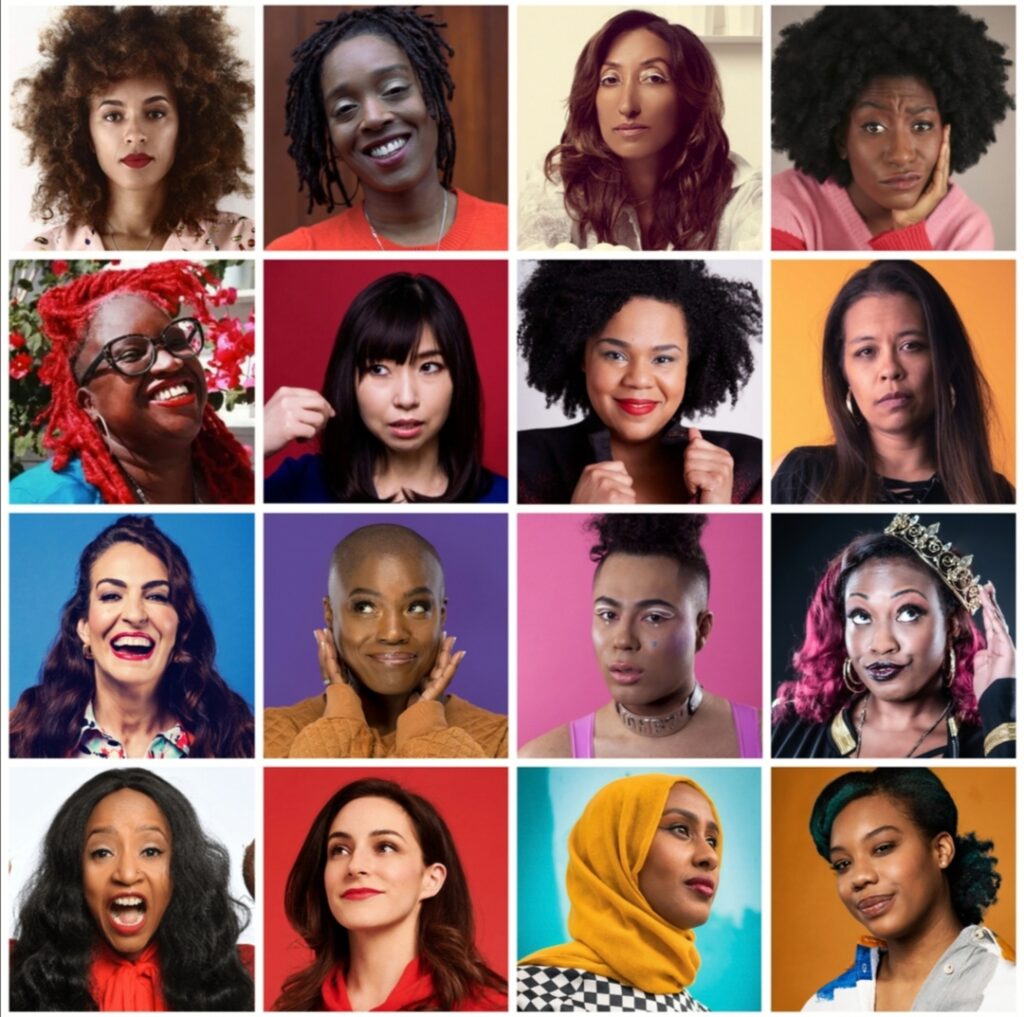 "Since co-hosting the Guilty Feminist years ago, I've always been inspired by its ability to raise awareness of amazing comedians that are often overlooked by the mainstream. And more-so its ability to align us with an audience that connects with our perspectives and may not have found us otherwise. Since founding FOC IT UP! one of my greatest joys is bringing relatable talent to an audience that many comedy spaces don't cater for, and I'm delighted to say that with the help of The House of The Guilty Feminist I'll be able to invite an even bigger audience to get to know these FOC-ing legends."

Kemah Bob
Coming from Texas, Kemah noticed a general lack of non-white acts and audiences in London's comedy scene. This is somewhat surprising in Europe's most multicultural city. Her work, then, centres black cultural identity using entertainment as a tool for empowerment within the UK.
"The House of The Guilty Feminist is fizzingly proud to present the FOC IT UP! podcast with the shooting star that is Kemah Bob. Her Femmes of Color Comedy Club is the freshest & most important new outfit in the British comedy landscape presenting both the hottest legendary talent and supporting exciting new emerging voices. Come out to the live shows for the IRL buzz or let us bring the big laughs to your headphones through the magic of podcasting. Prepare to be engaged, challenged and highly entertained as Kemah and the glorious comedians she showcases, in stand up and conversation, keep you giddy with laughter."

Deborah Frances-White – The Guilty Feminist
Live show dates:
Location: 21 Soho 3-5 Sutton Row London – W1D 4NR
Time: 6-9pm
Buy tickets for all shows here.
JUNE
19th Sophie Duker, Michelle De Swarte, Njambi McGrath, Charlie George, Ola Labib & Esther Manito
26th Sikisa Bostwick-Barnes, Athena Kugblenu, Ariane Anantaputri, Isabelle Farah, Katie Green & Shivani Dave
JULY
3rd Desiree Burch, Thanyia Moore, Ninia Benjamin, Erika Ehler, Mary O'Connell & Celya AB
17th Travis Alabanza, Janine Harouni, Yuriko Kotani, Bella Hull, Shazia Mirza & Ria Lina
31st Maria Shehata, Twayna Mayne, Saima Ferdows, Sharlin Jahan, Suchandrika Chakrabarti, Kate Cheka
AUGUST
7th Priya Hall, Alex Bertulis-Fernandes, Kirshna Istha, Leila Navabi, Su Mi and Fathiya Saleh
Watch Kemah in action
Kemah Bob
https://www.focitupcomedy.com/
Check out more Entertainment Now comedy news, reviews and interviews here.