Curated by leading art curator Ellen Nash, Georgian-born artist, film director and fashion designer Toma Stenko presents two new exhibitions. At a time when we need it most, Stenko explores the theme of love through her work.
'Fragile Angel' is the first exhibition on the Grand Canal in Venice. This is currently running and will continue until September 30. Stenko's second exhibition, 'Laura. The Muse of Love', is then open from today (September 25) until September 30 at Qatar International Art Festival – one of the largest art festivals in Qatar featuring the very best of fashion, art and culture from around the world.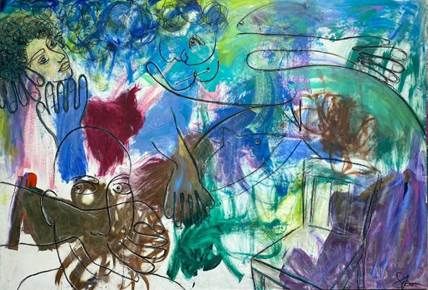 The fist exhibition asks people to listen to the messengers – the literal meaning of the word 'angel'. Forget about any differences and concentrate on the common ground because "only love will save our fragile world," Stenko explains.
A similar message is to be presented in Qatar, with Stenko's exhibition, 'Laura. The Muse of Love', based on the concept that when two artistic women create something new together, (for example Stenko and Nash) then a love story about a third woman is born – Laura. This premise is also based on the story of Laura and Francesco Petrarch, the scholar and poet of the early Renaissance. Petrarch saw Laura at church one day and fell in love with her, stalking her for years and purchasing a small estate to be near her. At Petrarch's estate he wrote various sonnets about her that advanced the growth of Italian as a literary language.
Not a lot is needed to create magic, just love.
'Fragile Angels', 1 – 30 September 2022
Scoletta dei Battioro e Tiraoro, Salizada San Stae, 1980, 30135 Venezia VE
'Laura. The Muse of Love', 25-30 September 2022
Qatar International Art Festival, 9G6F+CR3, Doha, Qatar
Check out more Entertainment Now lifestyle news, reviews and interviews here.