The simple ballpoint pen is used daily by a large majority of the population for quick notes or doodles. It's used in a hurry, a stream of consciousness; a quick scrawl. An object that seems at odds with the colourful, yet monochromatic and mighty portraits of Jacqueline Suowari. However, up close, these images are in fact the completion of thousands of lines produced from the simple ballpoint pen.
Originally from Nigeria, Suowari is a multidisciplinary artist primarily specialising in the ballpoint pen. She has been a professional artist for over ten years, following her studies in Fine Art at the University of Port Harcourt in southern Nigeria.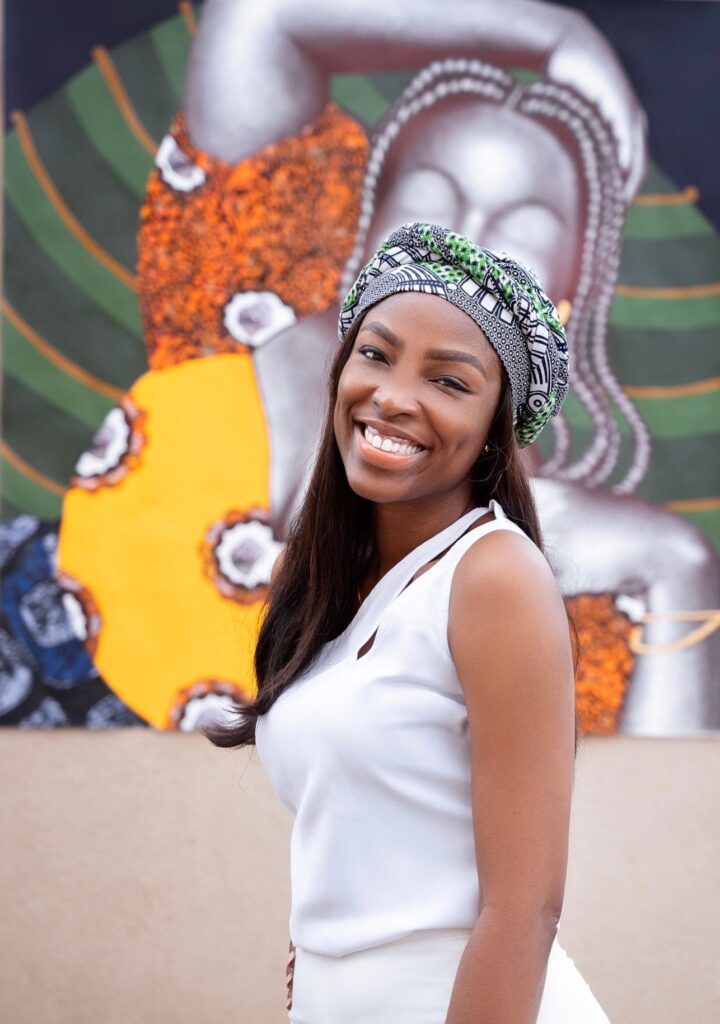 Suowari has participated in group exhibitions across the world, as well as solo exhibitions in Miami and Nigeria. Last year she launched a touring exhibition, around Abuja and Lagos, of her body of work under the title of 'Now I Wear Myself'. These works were then on view at Retro Africa, Abuja. The exhibition was featured on CNN Style and CNN Inside Africa, which caught the attention of people outside of Africa, including photographer and London gallery owner, Sokari Higgwe.
This October, Suowari has her first UK solo exhibition 'The Way They See Us' at Higgwe's London Lighthouse Gallery & Studio. Running until October 31, the exhibition seeks to explore how different identities can work together to produce a far better result for everyone. It centres on three fictional Nigerian tribes, exploring themes of prejudice and identity.
Altering the UK art scene
'The Way They See Us' exhibition makes a refreshing appearance in the UK, continuing efforts for a representative art scene. "I'm happy to be having it at the Lighthouse Gallery & Studio. Sokari has been a wonderful host, meeting him has changed my experience with galleries so far. It gives me a hope in the system," she revealed.
Higgwe has always been a photographer and artist at heart, but only turned to photography professionally in 2016 after working in finance and IT. "I come from Nigeria as well as Jacqueline; it's not the kind of thing you tell your parents, that you want to be a photographer," he said.
"My journey as an artist was a challenge," explained Higgwe. "I wanted to use this avenue [the gallery] as an place to encourage people like myself that didn't have the opportunity. I'm looking at it from an artist point of view so my main aim is to encourage established artists, as well trying to give people a chance to show their work when I can."
Following aspirations
Suowari showed an interest in art from a young age but, similar to Higgwe, was not actively encouraged to follow art as a profession. "I was drawing from when I was a child, I think the earliest memory is from when I was five," Suowari said.
"At that age between five and ten, when people start to ask you what you want to be when you grow up, I knew I wanted to be an artist," explained Suowari. "But, of course, when I'm from Nigeria, that wasn't a nice thing to say because everybody's parents want them to be in a profession like engineering or architecture for example."
"I had to keep insisting that this is what I wanted," she added. "I had the choice to crush my dreams or prove everyone wrong."
Her mark-making process of art has proved highly successful, with noticeable solo exhibitions as well as being featured in publications such as CNN and Forbes Africa. "It's been a journey so far because now everybody is biting their tongue," she laughed.
A philosophical pen
Suowari's body of work is as motivational as her journey into art. Her large creations, sometimes up to ten feet tall, spread a message of shared empowerment and hope, allowing Nigerians to express issues that aren't common discourse in Nigerian society.
"I am generally very inspired by body language, I like to read between the lines," Suowari explained. "Growing up in Nigeria, lots of people were not really allowed to express themselves boldly. However, that is now gradually changing due to social media."
Last year's exhibition 'Now I Wear Myself' centred on people taking control of their authentic selves, and was launched at the time of the Nigerian EndSARS movement that was fighting against police brutality. "I was trying to encourage to be themselves irrespective of the fact that society has this label of how you should look," said Suowari.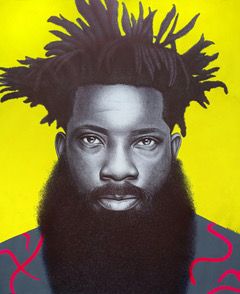 Suowari's latest collection, 'The Way They See Us', opened in London earlier this month and will run until October 31.
"The exhibition continues to be on the subject of identity," Suowari revealed, adding that she's trying to highlight the need for the merging of differences in order to remove subconscious bias and the metaphorical walls you build when you meet someone who appears different to yourself. "I'm trying to encourage tolerance and inclusion amongst people irrespective of the colour of your skin or your background. You might just learn something new," Suowari suggested.
Shared style
One of the pieces that's included in her latest body of work is called 'Aso-ebi Assembly' and features five individuals wearing aso-ebi (an identical type of material, colour or pattern that everyone wears during a wedding ceremony or celebration in Nigeria as an act of unity) in different ways and with some facial features eliminated. "I was using them as metaphors for different kinds of manifestations of people and identity in society," Suowari explained.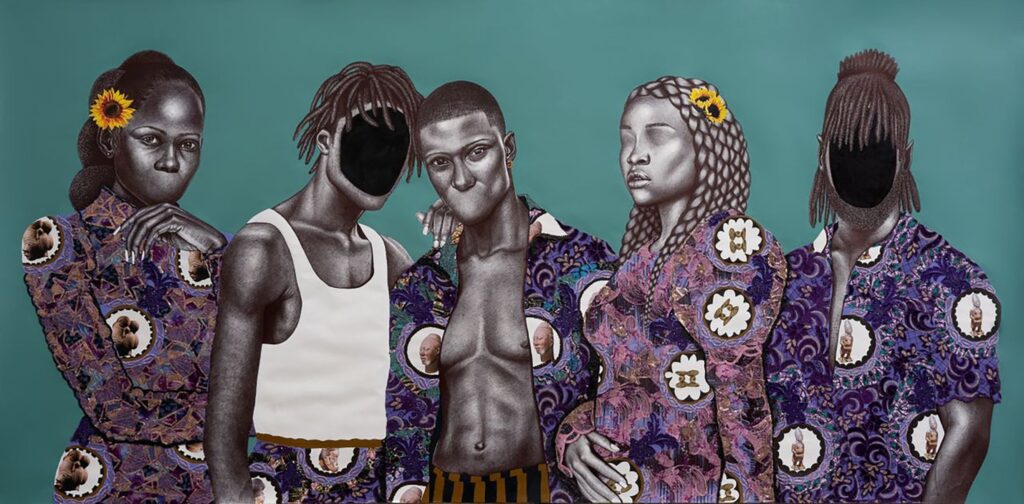 Suowari said the colour purple represents royalty, a quality that everyone shares. Despite not being born in the monarchy, everyone is special.
"If everybody can finally accept one another, then we can be united," she added. "'Aso-ebi Assembly' is like the gathering of a family, a kind of people who are united."
Faith in the future
Suowari's exhibition in London highlights the importance of modern art in the contemporary world. With African art historically linked to primitive art and artifacts such as the Benin Bronze, it is crucial that there are platforms to recognise all aspects of African art.
"I think for me having this space [London Lighthouse Gallery & Studio] is the beginning of how we can rectify common misperceptions that people have of the influence of black people on art," Higgwe said. "It's definitely changing now here, but I'm trying to use my platform to speak out and make people see that there is so much more than what you see in the British Museum, of the Benin Bronze.
"It's a whole new world out there," he continued. "With many more contemporary artists like Jacqueline."
Jacqueline Suowari's exhibition 'The Way They See Us' is running until October 31 at London Lighthouse Gallery & Studio.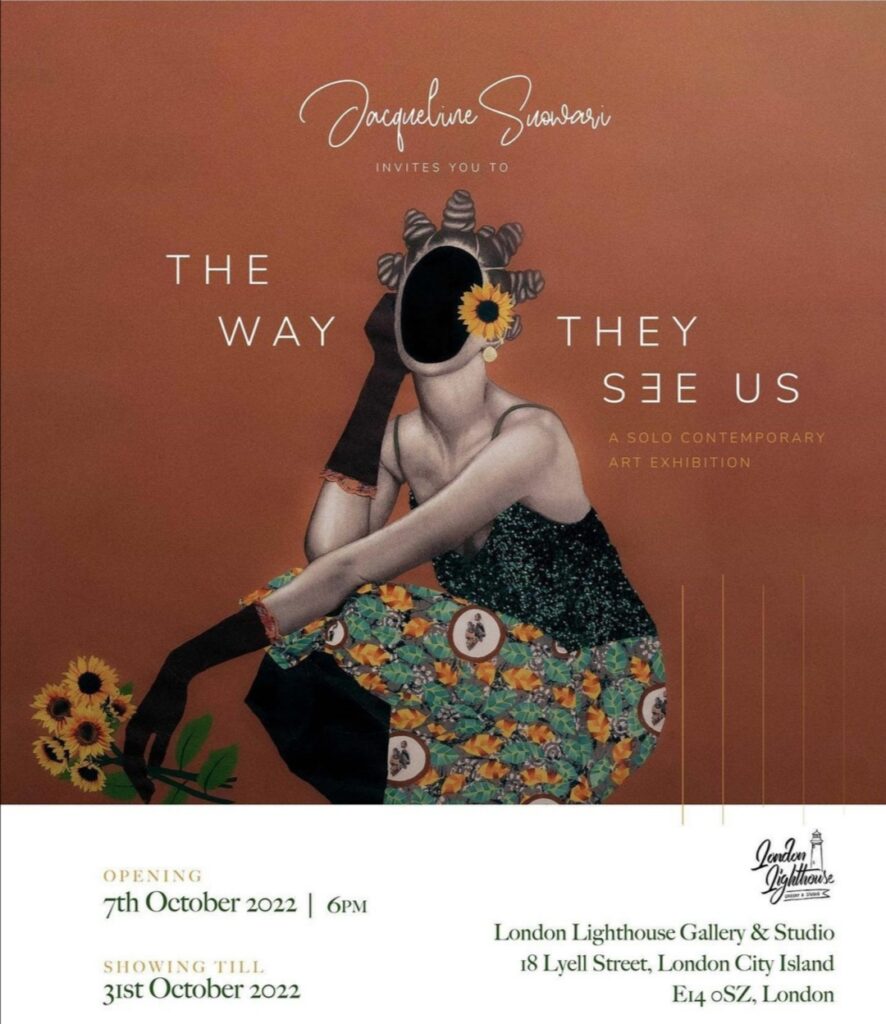 Feature image courtesy of Jacqueline Suowari
Check out more Entertainment Now lifestyle news, reviews and interviews here.