Shrewsbury's culinary scene is perhaps overshadowed by the better known reputation of nearby Ludlow. It's true that Shrewsbury's farmers' market happens only once a month compared to several times a week in Ludlow. However, its permanent market hall has enough butchers, fishmongers and delis to merit repeat visits. Plus it has book and record shops to browse when not dipping into the Thai street food or Chinese dumplings from the market stalls.

For more well padded comfort in Shrewsbury, Henry Tudor House is a 15th century mansion house that has been re-imagined for the 21st century. While there, we banqueted – merely eating seems inadequate – on beef Wellington next to a striking portrait of David Bowie as Elizabeth I. More straightforward and perfectly decent pub grub can be had at The Armoury down by the River Severn. For sushi, sashimi and a deeply umami tonkatsu broth ramen, you could track down Umai.

Or you could go upmarket. With reservations full until October, we didn't make it into The Walrus but it is on Michelin's radar if dishes of, say, Devon smoked eel, caviar, green herbs and wasabi float your boat.
Lunch at CSONS provided just as much variety to chew over in a more casual setting. It is run by four brothers, or sons, whose surname, Crouch, provides the C of the venue's name and hints at the seasonal ethos of the menu. There is a second branch in Ludlow.

The CSONS on Shrewsbury's Milk Street is a cheery space with couples, family groups and casual business meetings lounging around the chunky wooden tables. There is a small, leafy and covered outside dining area while the interior has a yellow and turquoise colour scheme that might remind older visitors of The Beatles' Yellow Submarine animation. Expansive windows run the length of the dining space and enable close inspection of the street life.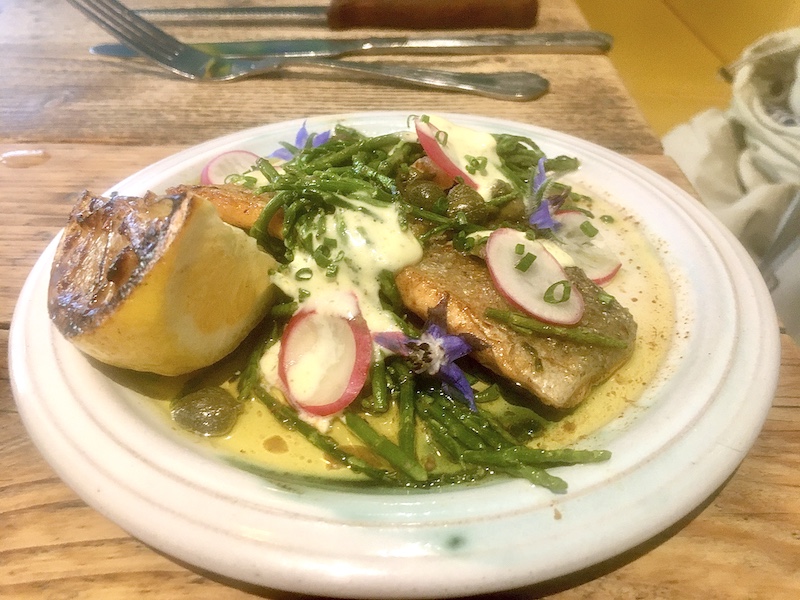 Local sourcing and global flavours is the simple but effective thrust of the kitchen. Apart from a short selection of burgers, the lunch menu is all available as small or large plates based around a single key ingredient. The large options feature additional elements in the form of pimped-up carbs, pulses and grains. For example, a small plate of firm trout from nearby Chirk was accompanied by a well balanced combination of salty, crunchy capers and samphire with a light and fresh lemon and basil aioli. Had we gone large then we could have soaked up some of the juices with porridge bread.

Sticking with the small portion format, we also ordered dishes of Springfield chicken, Worcester hispi cabbage and a spicy plate of Longhorn beef from Great Berwick Organics which sits just upstream from Shrewsbury.
So well reared it may once have been fluent in several languages and written poetry, the Springfield chicken shawarma was firmly textured, invitingly glossy and dressed with minty yoghurt, the house harissa and a dusting of dukkah. Shards of spring onion lent crunch and a forkful of gently pickled red onion introduced a sweet and sour counterpoint.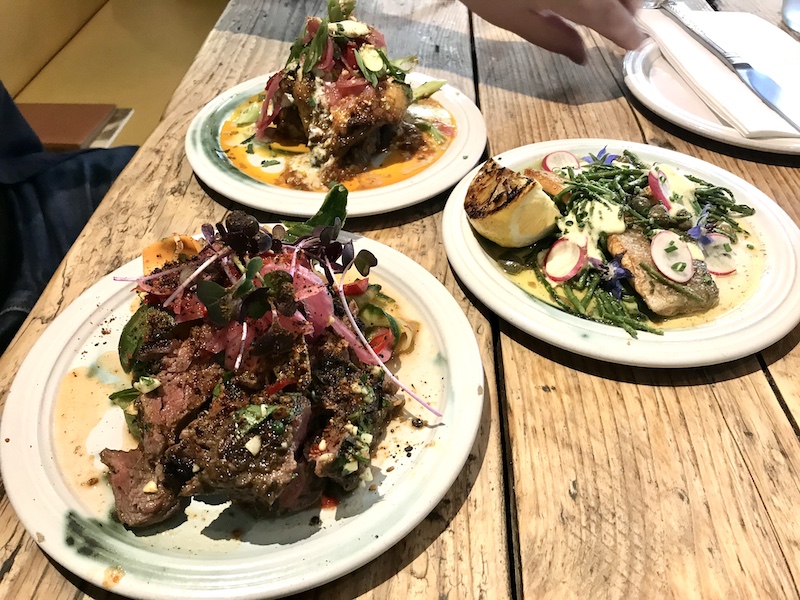 At a guess, rather than being charred, the quartered wedge of hispi cabbage had been blanched and then softly roasted. It was served with a warm, buttery romesco sauce and topped with a scattering of almond flakes. A generous dollop of Neal's Yard goat curd added a cool creaminess. A minor grumble was that if the stem been much more firm then it would have required a steak knife to saw through it.

By way of contrast, the strips of Longhorn beef had no need of anything sharper than a spoon. Loose grained, ferrous and pink, they were ably supported by a tangle of cucumber and carrot kimchi shot through with spikes of raw ginger, pickles and a punchy chilli sauce. With hindsight, I wish I had ordered the large version of this. Hell, had there been a 'supersize-me' option then I would have gone for that.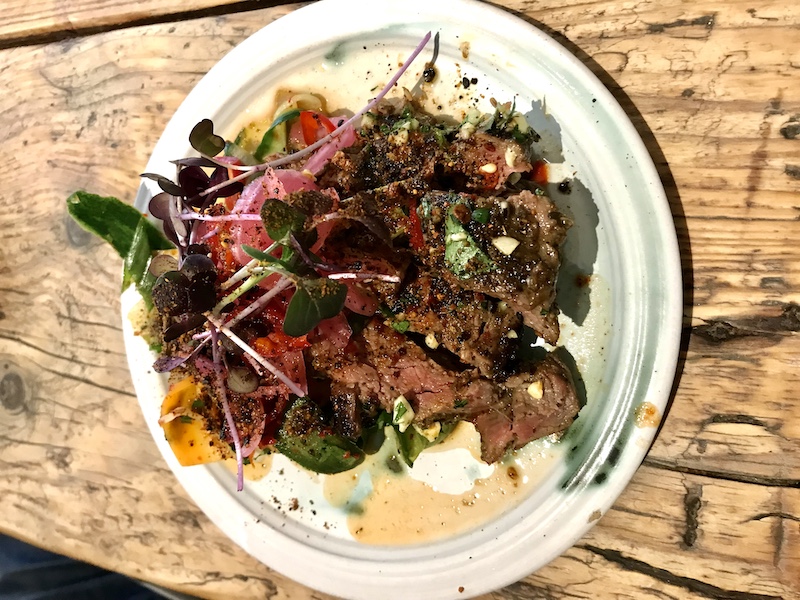 Could a dessert of freshly cooked doughnuts have been fluffier? Probably. Did this mean they were not delicious? No, especially when paired with thick, creamy labneh and a decadent mix of toffee sauce with a seasonal fruit compote.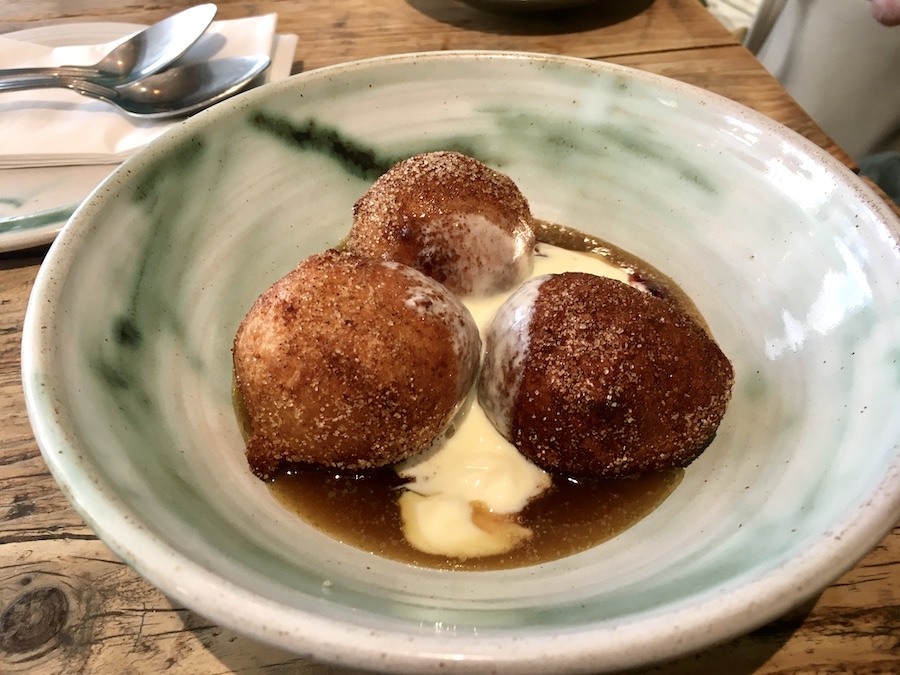 Minor moans aside, this was a zingy lunch that pepped up the taste buds. There are no timid flavours here. Instead, it was all vibrant, colourful and bold while remaining balanced. It is often said that good ingredients do not need much done to them. At CSONS, they start with impeccable local produce and marry it with inventive combinations of globe-trotting flavours.

Bostin. As they say around these parts. Apparently.

Prices:
Small trout £7
Hispi cabbage £5
Chicken £5.50
Steak £7
Doughnuts £6.50
-By Jonathan Trew
Check out more Entertainment Now lifestyle news, reviews and interviews here.