Every one is talking about Squid Game and if you are waiting to watch then social media has become a game of dogging spoilers.
Netflix released the dystopian South Korean drama on Sept 17 and it is already on track to be the platforms most popular show of all time. Squid Game is occupying the number one spot not only in the UK but also 90 other countries. This is an even more surprising feat as many series, like Brigerton, got astronomically high views during lockdowns when people had little else to than watch. Life if picking back up again but people are choosing to stay home for Squid Game.
The success of Squid Game is impressive by any means but even more so as it has passed language barriers and crossed the boarders South Korea and reached across the world. The show follows debt-riddle people invited to play a series of children's games for money, the catch is if they lose they are shot on sight by men in mysterious red suits. The concept isn't necessarily new as we have seen many stories crafted around games where the stakes are life and death but it is the simplicity of the games in Squid Game that make the story line so much more captivating.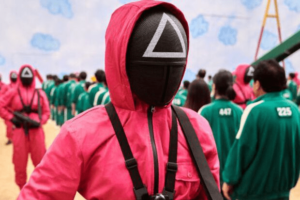 There is no time to be wasted digesting complex game rules and viewers get the chance to learn more about each character and their back story. The popularity of the show can also be attributed to the fact that it is simply well written, fast paced and visually interesting TV that deals with universal themes like capitalism, wealth disparities, justice and survival.
Check out Squid Game on Netflix and join the exhilaration conversation online or in the break room at work, rather than dogging it to avoid nasty spoilers.
Check out more Entertainment Now Tv news, reviews and interviews here.