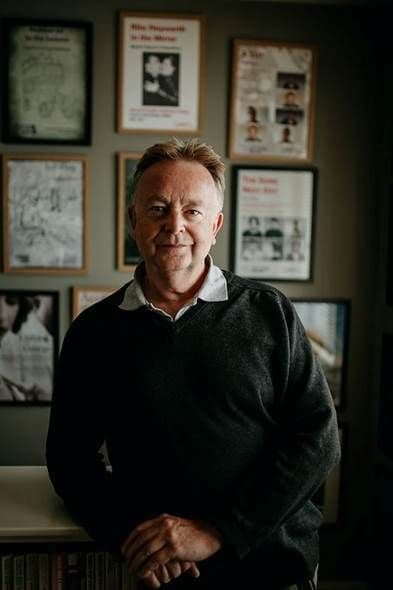 This month playwright Greg Mosse has released his debut novel, The Coming Darkness, a dystopian climate change thriller or what some might call, "cli-fi".
The novel is set in an alternative near future where global warming and pathogenic viruses have divided society. Focused on French secret operative Alexandre Lamarque, The Coming Darkness follows Lamarque as he aims to destabilise the controls on governments worldwide that protect human life from climate change.
Greg's wife, best-selling novelist Kate Mosse (Labyrinth), also has a new release this autumn, turning from her most renowned works of historical novels set in France to non-fiction about forgotten women from history.
Her book, Warrior Queens & Quiet Revolutionaries, is a celebration of stories of over 1000 women who have either been completely unheard of, or underheard. It also doubles up as a detective story of the author's own great-grandmother, a highly successful novelist in her day, that has disappeared from the records.
Entertainment Now chats with both Greg and Kate from their home in Chichester, about the effects of lockdown on writers, their professional relationship dynamics, and their most recent works.
How has this year been for you both so far?
Kate: Well, it's been a really wonderful year actually. We've both been doing new things and I think that's part of how we like to be, which is don't just keep doing the same thing over and over again. So we're both in our 60s, and I have my first play in Chichester Festival Theatre, which opened the 60th anniversary season. It is adapted from one of my novels, The Taxidermist's Daughter, and that was amazing because of course Greg is the playwright and Greg is about to have his own first novel out. We're kind of borrowing each other's clothing, which has been really good fun, and it's been a very industrious house.
Greg: Yes, incredibly industrious which is a good thing. Purposeful activity even when the world is falling apart, that at least has some kind of solace.
Greg your upcoming debut novel the coming darkness was written during the pandemic in lockdown. How did this affect your novel?
Greg: It's interesting that isn't it, that was my location obviously in this study that we're speaking from in Chichester. But of course, the action is in Paris and in North Africa. It's international and exciting. At the heart of it, there's this French secret services agent. Then the other thing of course about the location is I was stuck here in the constrained president of coronavirus lockdowns while my character was in this imagined future 15 years away in 2037.
It was like having my mind in two places at once and, although the action in 15 years' time in The Coming Darkness is threatening because after all, it is an adventure story, in a way it was an escape from what became very humdrum in the quarantines.
Kate: To travel the world and travel through time on the pages of a book, I think that's why we saw people reading a lot more than they normally have the chance to during lockdown because you weren't just in your own very constrained present. You could just be anywhere, at any time. I think that's obviously the power of a great novel.
Regarding your Languedoc novels Kate, the inspiration behind these was your house in the medieval city of Carcassonne. Can you tell us about this?
Kate: I mean truthfully, I write big adventure historical fiction and I write gothic fiction. I don't write contemporary fiction or futurist fiction; for me, all my stories are inspired by place and start with place. It's what I call the whispering in the landscape. The idea is that in a particular place at a particular time, there is a story for me. There are characters who were trying to catch my attention.
It started when we bought a tiny house in the shadow of the mediaeval city walls of Carcassonne in 1989. I knew nothing about Carcassonne, nothing about the history. But the minute I stepped foot in Carcassonne I understood I could write stories inspired by here. Of course, my Languedoc trilogy was my first series of books and now I'm writing The Joubert Family Chronicles which is The Burning Chambers, The City of Tears, the next novel will be The Ghost Ship and then the 4th one is as yet not titled and absolutely as yet unwritten.
But in each case, in The City of Tears, for example, it is the southwest of France, but it's also Paris, it's also Amsterdam. In the book I'm writing at the moment, The Ghost Ship, we will be back in Carcassonne for a bit but then we will be in La Rochelle, the great capital of really of France for much of the 15th and 16th centuries. Then we will be travelling to South Africa which is where the novels all first began and where they will finish.
So for me, it's always place first and then the characters come and the backdrop of real history, and then I think I wonder what my story is.
Presumably, you were both in the UK for much of the pandemic. Did your writing alter at all during this period, in contrast to spending summers in France, Kate?
Greg: That's a really interesting question. We were travelling just before the beginning of the pandemic, and we had this odd experience at the airport in Johannesburg South Africa. As we got off the plane and crossed the lobby, a woman came towards us with what looked like a plastic gun in her hand and pointed out us and shot. It was a temperature check, but we'd never seen that before.
That was the first time we'd ever come across it so that was sort of the first real evidence of what was to become limitations on travel and so on and of course we did not travel to France during that period.
Kate: But also I think what's really important is about authors being real people and having real lives. I'm a full-time carer; Greg's wonderful mother lives with us and we both care. Greg's brother is also with us as well, so we have been more centered around our house in England. I haven't been writing in France, those long summers of the past have not been possible for more than 12 years now because my parents also live with us.
Your writing life changes depending on what your personal situation is like. But, what you've got to learn to do as a writer is carry all of those places inside you. If I could only write when I was in Carcassonne, I would not have written for 15 years because I am on the road apart from anything else and then very much of my life is as a carer. Truthfully, I have learned over those years I can write anywhere.
Greg, your work has been compared to the great novelist John le Carré. Is this something you were actively aware of when writing, or shortly after?
Greg: We must just preface this by saying that I did not compare myself to John le Carré. Lee Child very kindly, very generously compared it to John le Carré and I guess it is that my central character, living in the future in 2037, is aware a modern hyperconnected world has many advantages. For example, it's always sunny somewhere, the wind is always blowing somewhere, and the tides are always running somewhere, so renewable energy resources coordinated across countries and continents are an incredible advantage in a hyperconnected world.
But hyperconnection also means governments and corporations have an extraordinary ability to collect data, often very personal data, about individual human beings and constrain their freedoms. That trade-off is something that's present in le Carré as well. Not just that trade-off, but also the sense of disaffection that gives the agents of the security services who know that they are not solely good. They know that what they do can be used for evil and I think those themes perhaps relate to John le Carré, who wrote them so brilliantly.
When you're not both busy writing, what books do you tend to read?
Kate: I have two completely distinct types of reading as you'd imagine. I'm the founding director of the Women's Prize for Fiction so, obviously, I read a great deal of what I call exquisite fiction. I don't really like the phrase literary fiction because it suggests that books that are commercial are not literary, which they are. The only question you should ask yourself about the book is does it succeed in doing what it set out to do. That's the value judgement. So I read a lot of that kind of contemporary fiction written by women from all over the world which is wonderful of course.
Then when I'm curled up on the sofa in front of the fire with a cup of tea: crime. I'm an old-fashioned crime girl and I read all of the golden age of crime over and over and over again. During lockdown, I read about 280 crime novels. I read all of Dorothy L Sayers, Christie, and Ngaio Marsh and I find that really really enjoyable because it's not an area I write in. But I have just contributed to the new collection of Marple short stories where twelve of us were asked if we would write a new short story for Miss Marple. I loved doing that it was really exciting to you know just dipped my toe into that.
Greg: Because I'm attending quite a few festivals at the moment I'm reading new fiction written by other authors on the platforms. For example, at Capital Crime this weekend I read a brilliant thriller by Tony Kent, and a wonderful police procedural novel by Imran Mahmood which Kate has also now read and chosen for her YouTube channel. Then behind me on the shelf there, there's quite a lot of contemporary French and Spanish writing which I love reading.
Let's discuss the elephant in the room. Greg, what's it like bringing out a novel when you are married to a literary superstar?
Greg: There are three things. The first thing is Kate has this brilliant intuitive creative imagination which means that she can develop and make seem real these astonishing imaginary worlds in her novel. Because she's such an experienced professional writer, she also has this wonderful objective editorial awareness of how best to tell a story, paragraph by paragraph, chapter by chapter. The third thing is, because she was a publishing director before she became a writer, she has this astonishing in-depth awareness of the industry and how it works and all the different relationships that you have with booksellers, readers, agents, and all the rest of it. So if I can't make something of all of that, I must be a complete loser.
Kate: Also I would say, we've always been a team. We met when we were 15 at school so we've known each other for a very long time. We have two children and now a grandson, and we had lived a lot of our lives before I became a well-known writer, and now Greg is about to do the same. I think that makes an enormous difference. We're not in competition with each other about anything, we never have been. I think it's just joyous to be able to support each other.
As well as having ties to the city of Carcassonne in France, you also move to Paris when you were 18 and, Greg, you eventually worked with the UN as a translator. Is this period of your life reflected at all within the new novel?
Greg: The key thing there is the international organisations because again it links with Carré. Organisations have bureaucracies and procedures and protocols and so on, and from the outside, they seem impenetrable. What you hope is that there are really determined purposeful individuals within those organisations who can kind of bust through those structures and act when action becomes imperative. When it must be now, not in a day or a week or month, it must be now.
That's one of my hero Alexandre Lamarque's challenges in the novel. He's piecing together elements of this potentially catastrophic conspiracy of climate terrorism. Partly because of his disaffection from the organisation he works for and partly because of that he's distrusted means that he doesn't have access to all the information all the time and he has to piece it together.
Working as an interpreter within those organisations taught me about those internal political structures and how they must be navigated in order to take purposeful steps to make things happen.
A major theme of The Coming Darkness is global climate change. How are fiction writers contributing to the fight against climate change?
Greg: One of the ways in which I had to research the future was to read a lot of brilliant general and scientific journalism which predicted the future. It is genuine contemporary knowledge, understanding what the future will be like today but more so. That's the environment in my novel and I think anybody who's writing that with honesty and authenticity is giving the world, not just a warning about the future, but also a way of understanding the choices that we are making today.
Is fighting against climate change something that you are both passionate about?
Kate: Well, the thing for me is my new book is non-fiction, Warrior Queens & Quiet Revolutionaries and it is divided into 10 subject chapters. Essentially it is a celebration of nearly 1000 women, it's a love letter to history and it's a book that asks the question of what history is and who gets to decide who makes it.
But one of the chapters is about women nurturing nature and what I've discovered is that the global climate change movement, the most effective voices, are enormously being led by young women all over the world. Often indigenous women.
In that case, I thought it was incredibly important because it's a very different sort of politics, it knows no borders but at the same time, it is very much linked to land and reclaiming the land. One of the most dangerous areas for women to be involved in working is land reform and climate change. The number that have been assassinated and murdered is horrifying, but it's not something people are talking about. So it was really important for me to put all those young women's voices in.
Finally – what's next for you both?
Greg: I'm currently writing the follow-up to The Coming Darkness. There are 75,000 words I think so far, but there needs to be about 98,000. Clearly, the last quarter or maybe the last fifth of the novel is still to be written. We're both in this phase of meeting readers, meeting bookshops and all the rest of it for the publication of Warrior Queens & Quiet Revolutionaries and The Coming Darkness.
We both have other projects too. I've got a secret writing project that's not been announced yet which will be released in the middle of next year and Kate of course has a new novel The Ghost Ship
Kate: I'm obviously very excited about the new novel, but I'm a novelist so I have had that excitement before. The thing is that, in a way, I'm most excited for next year at the moment because I'm starting a new career at 61 – being a performer. I'm taking a one-woman show on a big theatre tour in the spring and autumn based on Warrior Queens.
I don't know if it will work and I don't know if anybody will come but it feels exciting to give it a go because at the heart of Warrior Queens, as well as all these extraordinary women, is my own detective story into my lost woman from history. My great-grandmother, who I discovered during lockdown, was a really famous novelist in her day but yet has completely disappeared from the record. So, putting her back and telling the story of how I researched her life when so much of women's lives are not preserved, again, I'm really looking forward to sharing that with people.
The Coming Darkness by Greg Mosse is available now, published by Moonflower Books £16.99.
Warrior Queens & Quiet Revolutionaries: How Women (Also) Built the World by Kate Mosse is published by Mantle £20 hbk.
Check out more Entertainment Now lifestyle news, reviews and interviews here.