The ICON Awards have become a regular feature of London Fashion Week. On February 17, the ICON Awards returned with an enormous celebrity gala and awards ceremony at the Connaught Rooms in the De Vere Grand Hotel, London in aid of prostate cancer charity Prost8.
The awards honoured ICONS, namely people who have contributed to various areas including music, fashion, entertainment and philanthropy.
Celebrities and top influencers in attendance included Anita Dobson with rock legend husband Sir Brian May, Matt Goss, Ben Odoefu, Nick Knowles, model Ellie Goldstein, Sam Fox and Made in Chelsea star Sophie Hermann.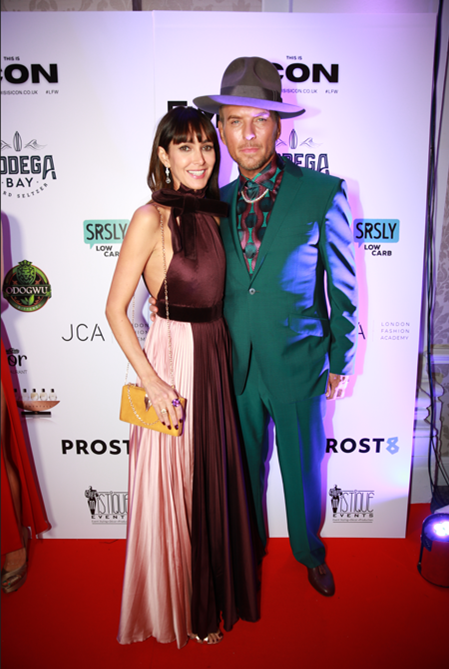 And the award goes to…
Notable winners included Matt Goss, who recently announced he will be going on tour with the Royal Philharmonic Orchestra. On the night, Goss collected an award for contributions to music and fashion. Matt's agent Chris Herbert, the man responsible for putting the Spice Girls together, was in the crowd along with Goss' girlfriend Chantal Brown.
Other awards went to actor, author and film producer Terry Stone; theatre impresario Paul Gregg, London native actor, rapper, writer and director Adam Deacon; model, TV personality and entrepreneur Jo Wood; and Cheddar Gorgeous of RuPaul's Drag Race fame.
Anita Dobson accepted an award for her decades of service to some of the most recognisable British shows in entertainment. Supportive husband, Sir Brian May watched his wife of 20 years collect her honours to raucous applause. 
"I am utterly thrilled to be receiving an ICON Award, and the fact that this event is raising money to support the vital work of Prost8 makes me even happier."

Anita Dobson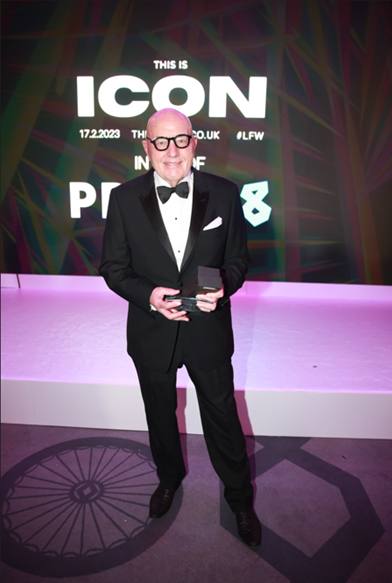 Sir Charlie Mullins, the famous Pimlico Plumber and "Britain's flushest tradesman" won an award for his services to philanthropy, and attended with his fiancé, the singer Raquel Reno who also performed at the event.
Theatre impresario Paul Gregg also picked up an award, following the announcement of his new play 'Tony n' Tina's Wedding' at the ArcelorMittal Orbit in the Queen Elizabeth Olympic Park, London.
The first to receive an award though was the actor Tamer Hassan, who delivered his award acceptance speech from the devastated earthquake zone in Turkey.
A fresh start for Ben Odoefu?
Following his recent split from Vanessa Feltz, Ben Odoefu appeared to leave headlines in the past. He joined the guest list in support of Paul Gregg and his upcoming play, in which Odoefu will play a leading role.
A match made in heaven
Also in attendance was the glamorous matchmaker and author Lisa Palmer, founder of Mogul Matchmakers and a woman coined by Piers Morgan as "the cupid for millionaires". Palmer added the award to her trophy cabinet which already includes a prize from the 2022 international businesswoman awards.
ICON intent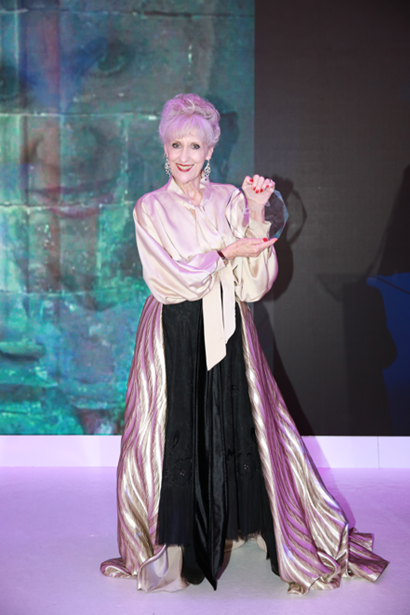 Founded by Buzz Talent's Helen Georgio and Rachael Lewis, THIS IS ICON has celebrated fashion and music over the years with a series of very well-received events which double up to work to spark a conversation around chosen causes, with much-needed funds going to various charities.
This year, the ICON Awards raised money for Prost8, a charity dedicated to delivering cutting-edge, minimally invasive procedures to men diagnosed with low to intermediate prostate cancer. 
"The ICON Awards set out to deliver another star-studded and glamorous event where we honour some truly inspirational people."

Helen Georgio
The star of ICON events is rising as a notable feature during London Fashion Week since its launch in 2021.
"We were pleased to bring together top celebrities with top fashion, music and philanthropic figures and provide them with great musical entertainment to complement the headline awards ceremony," Georgio added.
"The importance of raising money for Prost8 on their noble mission to offer better, non-invasive treatments to men diagnosed with prostate cancer further underscores our work to provide great events linked to a worthy cause."
Bidding war
There was also the chance to bid on auction items such as an ultimate luxury Formula One party experience in Abu Dhabi and an all-inclusive private island stay in the Caribbean. All proceeds will go to Prost8's campaign to secure equipment for the NHS to provide revolutionary treatments for prostate cancer which are far less invasive and life-changing than conventional prostate cancer treatments.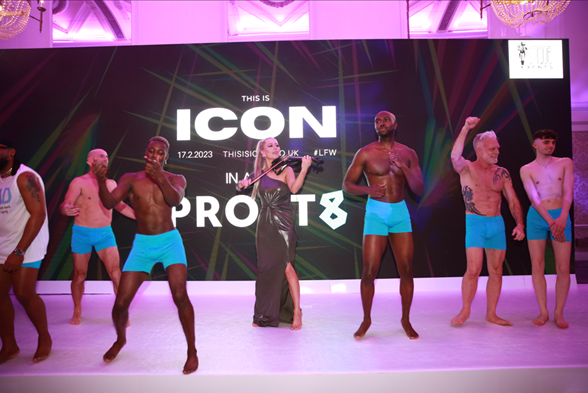 The Full Monty?
The closing moments of the awards caught every attendee's attention as six men stepped onto the stage in nothing more than Prost8 boxer shorts. Boasting the slogan "MAD" which stands for Manhood and Dignity, the pants underline the charity's hopes to give men minimally invasive treatments that avoid life-altering results like erectile dysfunction and urinary incontinence.
What's it all for?
Proceeds from the night go to the determined charity Prost8.
"Prost8 hopes to cut out the aggressive procedures that are currently being offered to men with treatable localised disease. This event has really helped us raise the money to fund focal treatment units, including ultrasound and cryotherapy."

Prost8 founder, Paul Sayer (himself a prostate cancer survivor)
Prost8 has ambitious plans to deploy at least the first two suites early this year (costing about £350,000 each) and two more before the end of the year. Centres such as Bath, Norwich, Newcastle, Sheffield, Fife and Wrexham are on the list, among others.
Sayer adds: "1 in 8 men in the UK will be diagnosed with prostate cancer in their lifetime, so it is critical that treatment centres are in place. With 24m adult men in the UK, if just 1 in 8 donated £1 we would reach our £3m target instantly."
To donate, visit the Prost8 website
Check out more Entertainment Now lifestyle news, reviews and interviews here.