Ah, February. A month at last, after January's four weeks of frugality, with a purpose. You may love it; you may hate it, but you damn well feel something towards it. For although some unfortunate souls are indifferent to the prospect of inducing sweats through excessive pancake eating, February's crowning event is an unavoidable mark in the calendar for us all. Valentine's Day looms large.
Sadly, singletons this article's for those contractually obliged to pull out the stops in a few weeks, their irritating romantic trips that clog your feed need URGENT shaking up. Paris and Rome are staler than counter-top pastries, with just as much overpricing. Here are a smattering of suggestions to inject some je ne sais quois, or rather some tko to može platit, into your lovers trip away.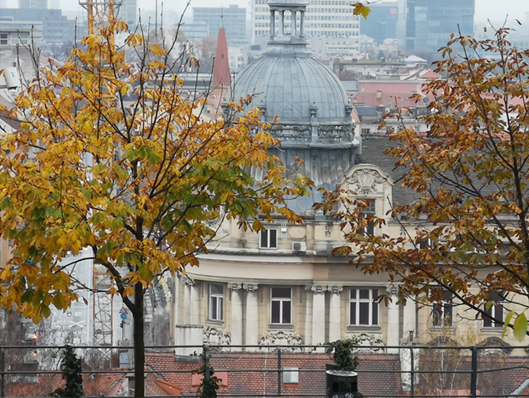 Zagreb, Croatia
Cheapest return flights: £32 (Stansted to Zagreb)
Travel time (direct): 2h 23
Croatia's reputation as a holiday making destination has certainly grown to rival the big boys on the Mediterranean block in recent years. With competitively priced turquoise blue waters, pretty coastal towns, and ties to game of thrones, it's not hard to see why.
Yet, Zagreb has all too often remained a stepping-stone in this growing industry, as the average summer sun seeker b-lines it for the Ionian straight out of Arrivals. Little known to many, Croatia's capitol offers an off-season charm that rivals even the biggest winter romance destinations.
Beginning in the mild off-seasonal bustle of the lower city's transport heart, Trg Bana Jelačića's ostentatious Baroque scenery recalls a Platz of Vienna without the expense and crowds. A block uphill, the hum of age-old Croatian commerce sounding out across a colourful sea of produce at the Dolac market, this time transports a visitor to provincial Balkan life. Here, the nearby Cathedral of Zagreb, the second tallest building in Croatia, and the mischievous sparrows provide quite the spectacle!
What is most striking about Zagreb's old town is its pace. In February, Dolac's tepid bustle of birds, baristas, and barterers is about as busy as it gets. Perfect for romance! After finishing a cheap espresso in one the market's surrounding cafés, a 15-minute venture north into the founding hill cities of Kapitol and Gradec guarantees an ascent into picturesque serenity with that special someone on a crisp late winter's day.
Beyond the odd tour group, like-minded couple, or oh so Balkan street corner convo, the spoils of Gradec's old town charisma are yours. Through a medieval gate turned candle-lit shrine for the surviving Virgin Mary painting of an 18th century fire, a stroll up and right takes you to the iconic St. Marks' Church with its striking roof decorations. A walk in the other direction reveals Lotrščak Tower and a spectacular view of lower Zagreb's red roofs, Gothic spires, Habsburgh flourishes and distant communist high-rises, the ideal backdrop for that couples picture!
With the late-afternoon sun starting to slip away and a dinner date beckoning it's time to descend back into the lower town. From the tower, a ride on the world's shortest funicular rail system is a fun option for under 50 pence. However, Entertainment Now recommends an alternative vista-blessed descent down through tree rows and beautifully still seating areas to the Grič pedestrian tunnel entrance.
Once through this fascinating and warm world-war two-era bomb shelter, you're back where you started, a stones-throw away from traditional taverns, hip bars, and affordable dining in the lower town. The literal icing on top, you have enough time to pull off that much coveted Valentine's Day gift.
In the souvenir shops and specialist bakeries of Zagreb a notoriety for next level iced gingerbread or 'Licitar' still goes strong. Existing in northern Croatia at least since the medieval period, the traditional sweet was made an object of 'Intangible World Heritage' by UNESCO in 2010. Crucially, heart-shaped versions are still a popular local option for that Valentine…when in Rome!
So why not? For soppy strolls, seclusion and souvenirs say zdravo to Zagreb!
For a bite to eat:
You'll struggle to find more warming winter food than that served at La Štruk, up the road from Dolac market. This restaurant specialises in Strukli, with numerous sweet and savoury variations of the north Croatian classic available. Beware, this bubbling tray of dough, cream and cheese is gut-busting!
For a drink:
K&K Milčec provides the gloom and bohemian décor that all small bars need to be great. Just east of the main square, it's well worth a stop.
Singleton alternative:
No one to buy hearts for? No problem, the Museum of Broken Relationships in the old town provides the perfect opportunity for a whimsical celebration.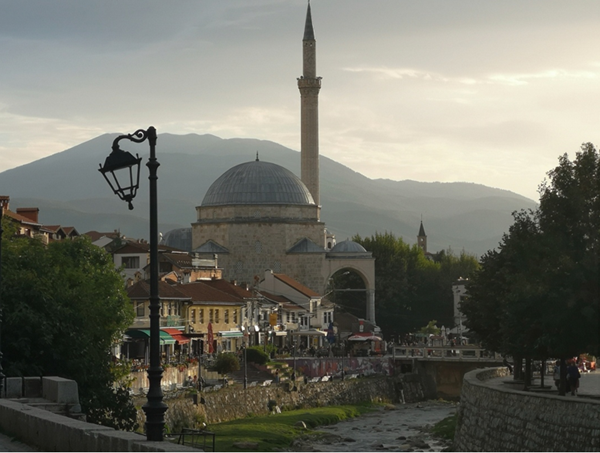 Prizren, Kosovo
Cheapest return flights: £62 (Luton to Pristina)
Travel time (direct): 3h 20
Though many of you effortless romancers out there are likely unaware of it, there is a science to the successful romantic trip away captured by six S's: scenery, spending, sipping, sightseeing and sex…y food. Nestled in the foothills of south Kosovo's Sharr mountains, Prizren is perhaps one of Europe's most underappreciated exhibitors.
For too long outsider views of Kosovo, its neighbour Albania, and both of their peoples have been dominated by crime and violence. Whilst many remain influenced by stereotypes somehow still around where others have been quashed, take full advantage of a simply stunning destination with a fraction of the fellow foreigners.
Fifteen minutes from the central bus station, if you can resist the wafts of byrek en route, a charming chocolate box centre awaits. Over the fast-flowing Prizren Bistritsa, an Ottoman stone bridge take centre stage in a scene of cobbled roads, red roofs, mountains and minarets. Looking back the way you came, the snow-capped Kosovan-Albanian border makes itself known. In the opposite direction, Prizren fortress towers over the town below.
Take your time in this historical quarter, its blend of commerce and cultural heritage makes for a fun but relaxed day of exploration. Just north of the bridge, a 14th century Ottoman bathhouse, Mehmet Pasha Hammam, and a 13th century Serbian Cathedral, Bogorodica Ljeviska, are beautiful remnants from a turbulent past. Yet, even the clothing shops along the same street make for interesting viewing, providing a good half kilometre of intricately decorated wedding attire.
Across the bridge once more, the elegant interior and exterior of Sinan Pasha Mosque await discovery. Next door, a bazar of different souvenir shops to haggle to your hearts content in before a short evening climb to the fortress above. From its historical walls, a panorama of the city to the chorus of Prizren's 40 mosques calling for prayer is simply one of the finest sunsets you can muster, and for no fee whatsoever!
Descending the hill, Prizren's night dives have a range of hip to refined covered. For that classic tuck-your-shirt-in date vibe, a glass of extremely local Kosovan red in one of the riverside wine bars is a great bet. Otherwise, why not try some craft beer? In many ways a pint of IPA outside the 13th century church of Saint Nicholas represents Kosovo at large, at once historical and emerging. The only thing left is the sexy food.
Whether a dinner for two in the Airbnb or a greasy night out, Prizren has you covered. With an eclectic mix of different cultural influences on display and a widespread reliance on the locally grown, the town provides a fine example of why the Balkans arguably has one of the most understated food scenes in Europe.
Nut and confectionary vendors in the shadow of Sinan Pasha Mosque will transport you simultaneously to heaven and Istanbul. The purchase of a magnificent suxhuk (Balkan, middle eastern salami) from a mishtore (Butchers) down river will do to your British contentment with 'German-style' salami slices what LSD does to reality. Whilst the accidental two-euro purchase of two kilograms of figs from elderly Gorani ladies on Ahmet Prishtina will leave you simply speechless.
For a meal out, there are countless 'traditional' restaurants or otherwise near the river, but truthfully your quest for food can be placed in few better hands than the locally prized uptown grill scene. A turn of pace from Prizren's touristic centre, a 10-minute venture to the end of Adem Jashari street will not only give you that chaotic evening adventure that every couple needs once in a while, but the best ćevapi (grilled sausages) going, and at prices that don't break the bank. Although truthfully everything is cheap here.
Had your fill of a relatively small city centre? No problem. Europe's youngest hippest capital, Pristina, is an hour and a half away, the dazzling Accursed mountains of northern Albania and western Kosovo are just as close, whilst the Sharr mountains, Europe's most underappreciated range, are a stone's throw away to the south. With such cheap transport to the area, what are you waiting for?
For a bite to eat:
By the NATO monument, Furra Pizzeria Qebaptore 'Linda' monument have you covered for a classic ćevapi meal, ayran on the side (a salty yogurt beverage). With a furra/ bakery as well, this is also a great local spot for breakfast. Try the fli for a cream clogged wedge of layered crepes to end all breakfasts.
For a drink:
Te Kinezi, a hip bar with a name that nods to the well-known Chinese restaurant that preceded it, is the spot to drink that pint of local craft beer in front of a church. Very cool.
Singleton alternative:
The same with less food sharing.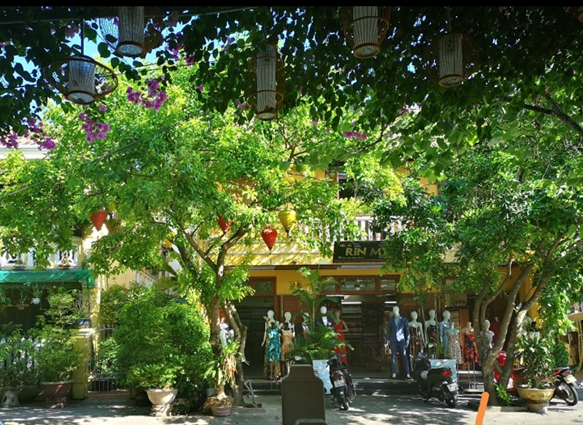 Hoi An, Vietnam
Cheapest return flights: Not available for next year.
Travel time (one stop): 18h
Ok so granted this destination clashes with those nearby spur of the moment spots we've so far explored, but if you're a home-residing Laotian or have an ability to plan something a year in advance, why not make your Valentine's Vietnamese?
February after all is one of the best times to visit the country. Beating the monsoon rains and some next-level humidity in the summer, flying now really maximises your time exploring and minimises your time wringing clothes out- be it rain water or sweat. Besides, in Hoi An, you'll want all the time you can get.
French colonial streets accented with trees, sprawling wiring and weathered yellow buildings, adorned in vine plants, set the scene for a new marriage between chaos and commerce at every turn. Though quieter than the likes of Hanoi and Ho Chi Minh, an energy greater than even the largest European capitals is still palpable. Buy a crepe outside the heaving central market, get a shirt tailored for same day pickup, even crossing the road here will be fused with excitement.
Entering the heart of the Ancient town, boat rides, bars and bartering in antique shops await along the riverside streets of Bạch Đằng and Công Nữ Ngọc Hoa. Though these activities are perhaps beside the point. This UNESCO world heritage site really is a gorgeous location, with a tapestry of historical influences coming together to echo and ultimately even outgun those European romance titans.
Along the Thu Bồn river, traditional boats flow underneath the ornamented Cam Nam bridge in a spectacle overlooked by vibrant colonial buildings. From here, taper off into narrow backstreets to get lost in a labyrinth of vendors, coffee joints, and cultural heritage. The 400-year-old Japanese-style Chùa Cầu bridge, and the Fukian (Phuc Kien) Assembly Hall of Vietnamese, Chinese, and Japanese influence are just two of the treasures you can stumble upon.
Fancy a change of pace? Bike hire is another popular activity in the city. Busy streets quickly transform into shimmering midday paddy fields with water buffalo after 10-20 minutes of easy-going cycling north. Heck, if you feel like Bradley Wiggins, a cycle on to An Bang beach is another option.
Cycle in hand, shirt collected, make sure to return to the Thu Bồn after a well-earned siesta. With an abundance of lanterns, the Ancient Town's romantic riverfront only gets better after dark. Why not take a lantern-lit boat ride? This Vietnamese Venice isn't short of options.
Rounding off the evening from a 19th century balcony with a 40 pence beer, Paris will be a distant memory as you swat mosquitoes and count geckos. With the dramatic caves, karsts, and mountain rainforests of Phong Nha-Kẻ Bàng national park only a £12 bus ride away, the adventure has really only just begun.
For a bite to eat:
Competition for the coveted title of best Banh Mi (an iconic Vietnamese fusion of baguette, pate, marinated meats and vegetables) is fierce in Hoi An. For us, the hugely successful but still relatively humble Madam Khanh- The Banh Mi Queen is indeed the queen. Great ingredients minus the same crowds as other famous joints sees them past the line. Go to 115 Trần Cao Vân and decide yourself.
For a drink:
Market Bar, on the corner of Bạch Đằng street, is a great spot for that evening drink out. The space's historical terrace provide fantastic views of the river and chaotic namesake below.
Singleton alternative:
There are boat rides and then there are boat rides. We recommend one of basket boat tour experiences in and around the mangroves of the Cam Thanh Water Coconut Village. Often available for booking through good hostels and hotels, a tour will typically consist of crab fishing and a shrimp net demonstration, before a surreal spinning fest to a backing track of K-pop and clapping. You have to see it to believe it…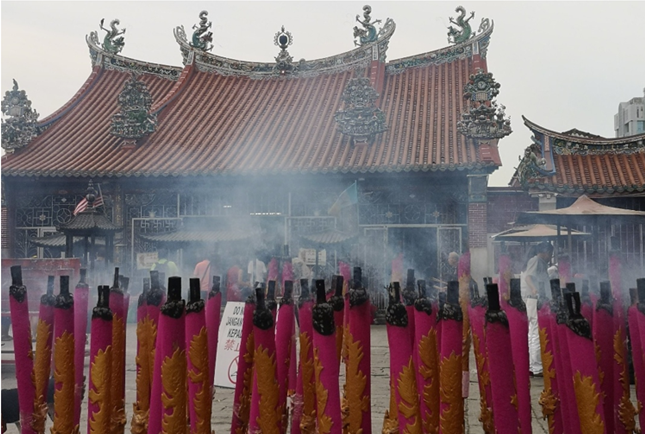 George Town, Penang, Malaysia
Cheapest return flights: Not available for next year.
Travel time (one stop): 20h
Look, if you're considering Hoi An, you have to consider Malaysia. Where other exciting backpacker hotspots in Thailand, Cambodia, and Vietnam perhaps fall short of fulfilling 'romance', this region delivers. It's a close-run contest with Melaka. Judged on quantity of stuff to do however, George Town edges it.
A kaleidoscope of cultures, cuisine and colonialism, this city in the north of the country is simply a travel writer's worst nightmare. In the northwest of the city, George town's 'heritage zone' melts the fortresses, clock towers and regal street blocks of a bygone British empire into one of the most dazzling displays of multiculturalism going globally. Where do you even start?!
Around Lebuh Chulia, Lebuh Queen and Jalan Pasar, Little India will give you sarees, silk, and the simply stunning Sri Mahamariamman Hindu Temple. Just up the road the Chinese Buddhist 'Goddess of Mercy' is equally exuberant, whilst a stroll in the opposite direction reveals the magnificent Kapitan Kelling Mosque.
A taxi ride to Kek Lok Si is another must. The largest Chinese Buddhist temple in southeast Asia is the temple to end all temples. If go big or go home is your kind of temple, one of the world's largest reclining Buddhas housed in the Siamese Wat Chaiyamangalaram will also do the trick.
Don't just limit yourselves to religious beauty though. Built an by early 20th century tycoon Cheong Fatt Tze for his wife, the striking Imperial Chinese style Blue mansion should provide ample inspiration for your own post-lottery statement. This UNESCO heritage site is one of the most iconic buildings in the city.
Hungry and wondering if architectural diversity is reflected in the nosh? Hawker markets will give you an emphatic yes. With many busy food courts dotted around central GT take your pick for an array of Chinese, Indian, and Malay flavours. Recall that age-old pillar of relationship maintenance: 'variety is the spice of life'? This city will ram it in your ears, eyes and nostrils, sometimes quite literally. The Satay tends to be safe.
Of course, the city's cuisine, culture, and constructions are there 354-365 days of the year, depending on which of the city's many calendars you follow. What makes February THE time to go, are the festivals.
Chinese New Year in one of the only three China towns to earn UNESCO world heritage status worldwide is kind of a big deal. If fireworks aren't romantic enough though, Chap Goh Mei will do the trick 15 nights later. Widely known as the Chinese Valentine's Day, along George Town's esplanade the occasion is celebrated with an unrivalled quirk, as boys on boats compete to collect the most oranges cast into the sea by single gals. For the remaining freaks that aren't impressed by fireworks or soggy oranges, the Penang Hot Air Balloon Fiesta has you covered, February 5-6.
For a bite to eat:
Red Garden Food Paradise, a food court along Lebuh Leith, provides a great variety of foods where other courts in the city are perhaps more centred on Chinese and Malay food. The spot also exudes more of a party atmosphere with a noticeable presence of alcohol and live performances.
For a drink:
There are many, many, many cool bars in GT, and 12 Senses is right up there. Hidden behind a traditional shop veneer in the heritage quarter, a closer inspection of the building at 12 Lebuh Presgrave reveals a secret Imperial Chinese style bar with an atmosphere and the drinks to match. Well worth a hunt.
Singleton alternative:
All of the same without the sweaty hand holding.
Check out more Entertainment Now lifestyle news, reviews and interviews here.